Do you want to make money online in Kenya?
Starting a blog in Kenya is among the lucrative ways to generate a job replacing income.
What's amazing about blogging is that you need little skills to get started. And those skills are what that I'm going to cover here.
After reading this guide, you will know what a blog is, how to create one by yourself, and proven methods to make money blogging in Kenya.
Let's get started.
What Is A Blog
A blog is a type of website created to share information with a targeted group of people. For example, when you Google for " How To Save Money"  youwill find several blogs giving you tips on better ways to save money every day.
Here is a good example.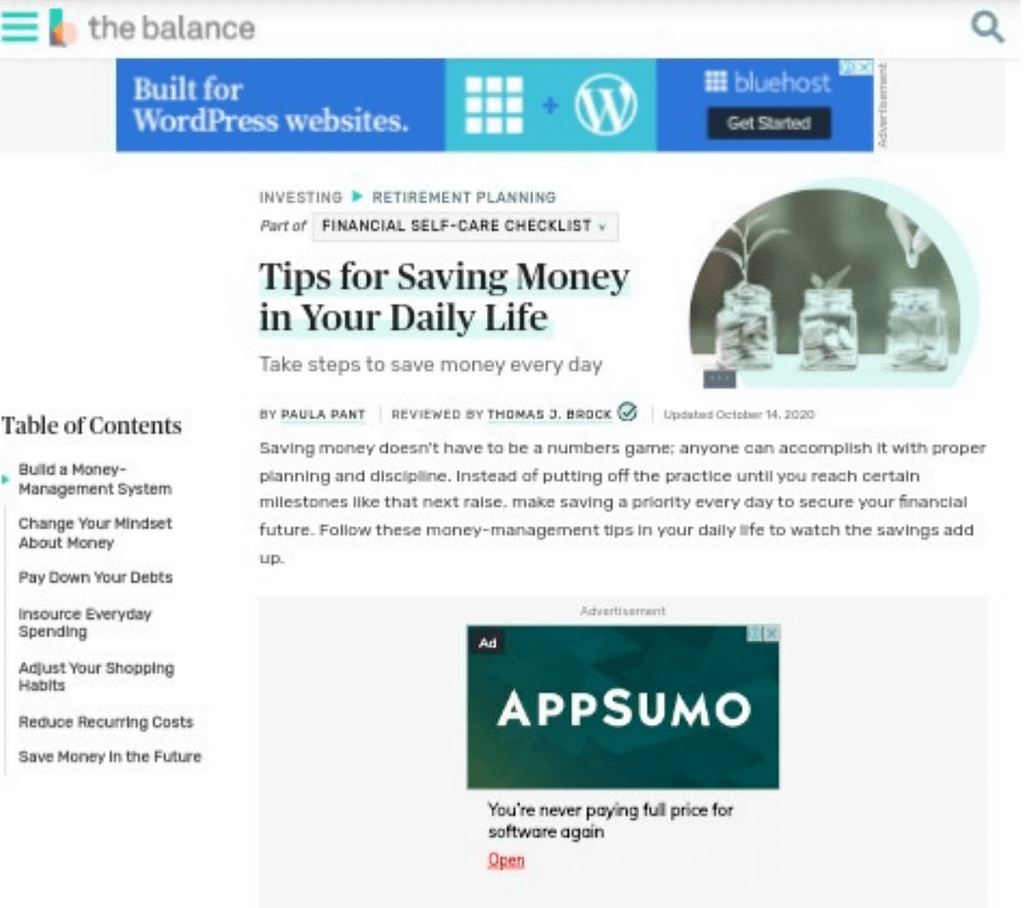 Away with that. This that you are reading here is a good example of a blog. I created this blog to help small online business entrepreneurs like you make a living online.
A blog is also focused on encouraging a dialogue between the author and the reader.
This is why in most blogs you will find the comments section immediately after the post.
How To Start A Blog In Kenya
Some years back, to create a blog, you needed to know how to code.
Learn how to start #blogging in and make #money #online in Kenya as #beginner
Click To Tweet
However, as technology became more advanced, everything got simplified. That meaning you don't need to know how to code to start blogging in Kenya.
I created this blog by myself. I don't know what coding entails. Yet my blog looks very professional.
I have helped several of my clients create their blogs too. Do you want to create a blog also and make money online? Then follow this guide till the end.
Step #1:Know Why You Need To Start A Blog.
It might seem silly but it's a critical step that you shouldn't skip. This will help avoid some challenges that new bloggers face in their blogging journey.
Remember, blogging is a business. And an online business yet. Just like any other business you need a business plan.
Fortunate enough, a blogging plan isn't complicated. Maybe these could be some of the reasons why you need a blogging site in Kenya.
You want to make money online.
You want to share your skills e.g financial skills you've learned from your experiences.
You are a teacher and want to extend your teachings to the online world.
You want fame.
You want to boost your business's sales by giving your business online exposure.
You want to share your life experiences.
Or you want to do it as a hobby.
Whatever is the reason I'm pretty sure that you have your reason for starting a blog.
Step #2: Find Your Blogging Topic
A blogging topic, also known as a blogging niche is the industry category that you want to blog about.
For example, when you are an experienced financial analyst, you will probably think of creating a blog sharing financial information to your readers.
Now, you might think that you need to be an expert to start blogging about an industry that you love. Hell no!
The information is all over the place. You can learn from the experts and know how a certain industry is all about.
To choose a blogging niche, just think of a topic that piques your interest. That topic makes you stop and join the discussion. Is it about fashion trends? Is it about technology trends or is it about cars?
Have you got your topic already? Then let's go on to the next step.
Step #3: Give Your Blog A Good Name & Buy Hosting
You know your blogging topic now, what's next is giving your blog a good name. This name will be your online brand. It's what will distinguish your blog from the rest on the internet.
In the web industry, we call it a domain. It's your blog's name then followed by an extension such as .com,.org, .co.ke, .net among others.
A good example, this blog's domain is www.bloggerkenya.co.ke.
I now hope you get it.
Since a domain is your business's brand's name, you have to register it.
Domain registration in Kenya costs you as little as Ksh 500 to Ksh 5000. This will vary with the extension that you choose for your blog.
You are lucky to be here since I will show you a trick that will get you a domain registration for free. Yes, I mean it for free. In the legit way of course.
Then, to open a blog in Kenya, you need to buy hosting. This is a service provided by a company to provide relevant resources that power your website. This is done using special computers known as servers.
Take it like a room you rent to start a business. That room is where you keep your goods.
In the same case the web hosting space in that space you rent online to have your blog functional and online 24/7. It's where your web files are stored.
There are many companies offering web hosting services. The cost of hosting a blog in Kenya can go as low as Ksh 1500 up to Ksh 10000 depending on the company you choose and also the size of your blog.
For example, Bluehost which is among the largest web hosting company in the world will cost you $70 (Ksh 7000) to host a website/blog using their most basic plans.
Then Hostpinnacle, which is among the popular web hosting companies in Kenya will cost you as low as Ksh 1500 per year to host a blog. That's insanely cheap.
But you need to consider that Bluehost is an international company with many advanced resources to host big websites.
The so-called experts will tell you to go for Bluehost. But I don't see the need to do so.
You are just starting so no need to pay that much for a tiny blogging site that you are about to start. I wouldn't recommend those giant companies to you.
My advice;
get started with a local web hosting company and scale as your website grows.
Several good companies offer quality hosting in Kenya. Here my favorite 5.
I would recommend Hostpinnacle for you since that's what I have been using to host this blog. Their services are lit and they are very supportive.
Well then, how do you register a domain (for free) and buy hosting for your blog.
How To Register A Domain & Buy Hosting In Kenya.
Registering a domain and buying hosting is a process that will take you barely ten minutes to complete.
You can even do it using your smartphone and it will make everything much easier.
Hostpinnacle offers both domain registration services and web hosting services. To get started, visit HostPinnacle to their official website.
Or use this exclusive link which will give you a free domain.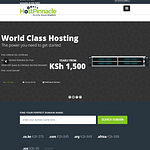 Then choose the hosting plan that you want to get started with. I would advise you to use the standard package.
Reason? It has much more resources that will handle your blog even if it grows.
Then go ahead and register your domain then click on check to see if that domain is available or if it's already taken.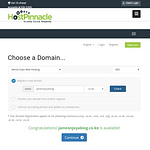 If the domain is taken, you can make slight adjustments and then check it again. Please, don't use a number in your domain.
The deal is to make your domain easy to remember for your audience. Just keep it simple.
Once done, click on the continue button to proceed to the next step.
Cross-check your order summary and see if it totals to Ksh 3500. Then go on by clicking on the continue button.
In this step, don't check on ID Protection. You don't need it. As usual move on by hitting on the continue button.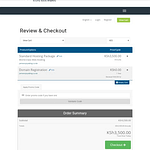 Once more closely check if your order totals to Ksh 3500. When done, move on by checking out your order.
You will come across this form that you need to fill.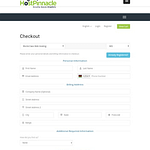 Then choose your methods of payment. Mpesa is of course the best and quickest methods to use.
When finished, Hostpinnacle will automatically give you instructions to follow to make the payment.
When all is successful, you will receive an email confirming your order and another one with your CPANEL Credentials.
Bravo! You've done it. Let's first have a mini ceremony……
Okay. Can we go to the next step now?
Step #4: Design Your Blog
Crazy as it may sound but you don't need to hire a web designer to design you a blog.
You can do it by yourself even if you know nothing about web designing. How?
This step will walk you step by step on how to design a blogging site/website in Kenya.
Let's get it done.
1 . Install WordPress From Cpanel.
WordPress is blogging software that you install on the server where your website is hosted.
This tool helps you create your website and blog with ease. To install WordPress you need to login to Cpanel.
You can do it using two ways;
But I will show you the easiest method at the moment. In your Hostpinnacle clients are there is a Cpanel login link that will take you to Cpanel.
Here it is.
Then here is how Cpanel should be like.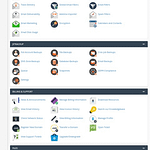 So without wasting time, scroll down to the Softculous Apps Installer and then click on the WordPress icon.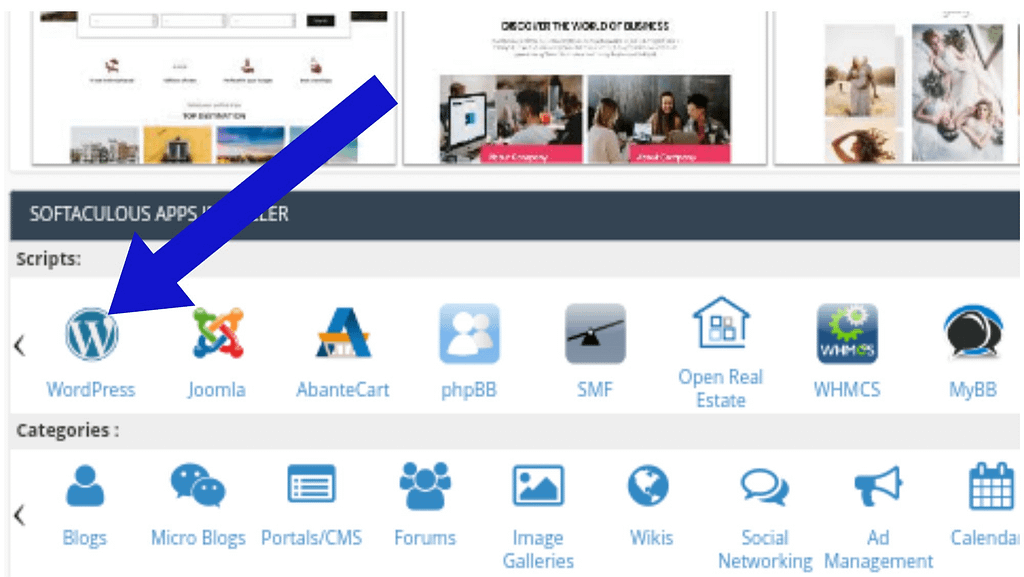 Then proceed by click on the install button.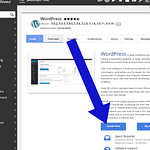 After that, you need to enter your installation details.
First, select your domain where you want to install WordPress then leave the directory part empty by deleting the "wp" character.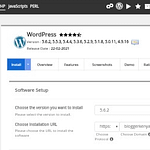 Enter the which you'll call your website, your site description, a strong username, password, and the administration email.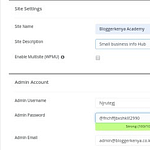 Right at the bottom of the page, click on the install button.
The installation will take a few seconds to complete.
When all is successful, you will receive a success message.
Good job! You have your blogging software installed.
What's next?
2 . Install Your Theme.
A theme is the general appearance of your site. If you hire a web developer, usually they create a unique theme for your website.
Since you are doing it on your own and at the moment have zero coding skills, the WordPress directory gives you over 3500 free themes that you can create your website.
The themes are all free all charge. And it doesn't matter the industry or brand that you want to start your blog on.
Be it a business blog, a fitness blog, or a marketing blog you'll find the themes available for you.
What you need first is to login into your WordPress dashboard. Do you remember the password and the username that you set during installing WordPress?
Perfect! That's what you are going to use to login into your WordPress dashboard.
Well, head over to your chrome browser or whatever browser that you are using. Then type this www.yourdomain.com/wp-admin.
Please note: you need to replace "your domain" with the actual domain that you've registered.
For example to login into my WordPress dashboard, I type this. www.bloggerkenya.co.ke/wp-admin.
I now hope you understand. Cool. Then use your username and password that you used during the WordPress installation.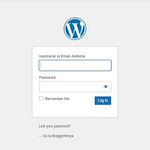 This is how the WordPress dashboard looks like.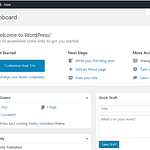 It can appear a little bit daunting but as time goes by you learn to explore everything and it shall be at your fingertips.
Without wasting not even a second let's install your WordPress theme.
On your right on your dashboard click on Appearance and then themes.
Proceed and then click on add new to install a new theme.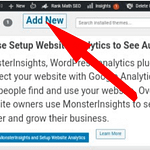 Now the whistles and the bell from each of them can confuse a beginner. Not every theme is great. As a result, you have to get a good theme that is lightweight and SEO-friendly. Here is a list of my best favorite themes for beginners.
Hestia.
Astra.
Neve.
GeneratePress
Customify.
Zerif
Customizr
OceanWp
For our case, we are going to install Hestia. Although you can choose any theme that you feel is perfect for your website.
On the search bar, type in "Hestia".
Select the theme and click to install and finally activate your theme.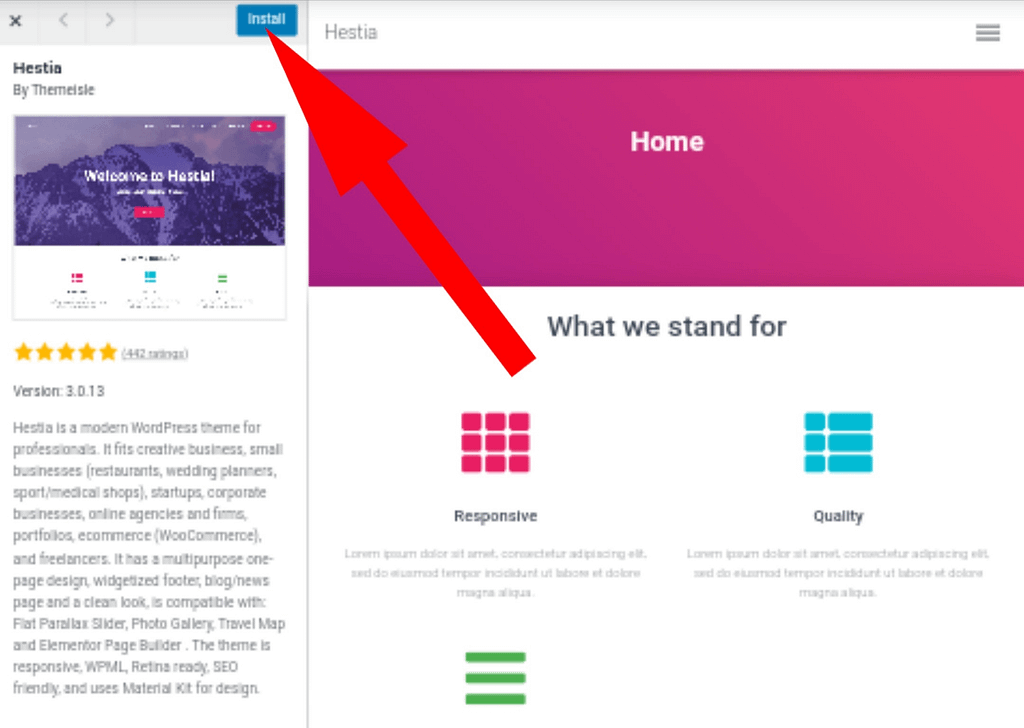 After that go back to the appearance tab and click on customize button.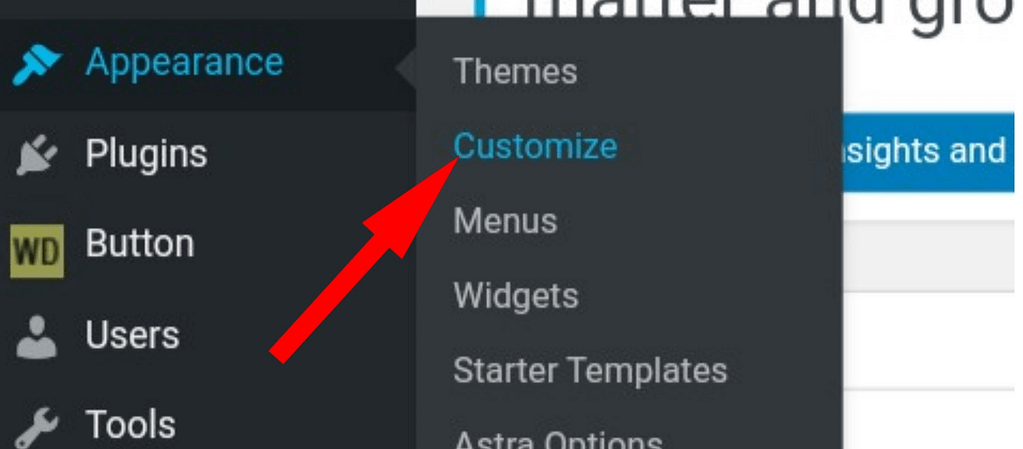 From there you can begin to customize your site as to what impresses you.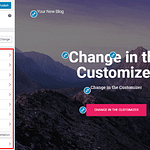 For example, you can click on site identity to upload your site logo from your PC files
3. Have These 5 Important Plugins Installed
Plugins are small software that improves the appearance and functionality of your website.
They are like the APPS that you install from your Google Play Store or Appstore to improve the functionality of your smartphone.
A plugin is very important to your blogging website. There is a plugin for pretty much everything you want to do to improve the performance of your site.
However, we are going to focus on essential plugins that you need to install first.
Hover on to your site's dashboard and click on Plugins then Add New.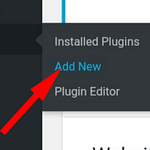 Then Install these 5 plugins ;
Yoast SEO – This plugin helps you optimize your website and blog posts for Google.
Jetpack – it's a multipurpose plugin. With this, your site is secured, your images are optimized, track your traffic among other things.
WP Fastest Cache – it's a plugin that helps you make your website blazingly fast for your visitors. If your blog is slow, your readers will leave which will result to mess traffic hence less blogging income.
Akismet – This plugin moderates spammy comments.
MonsterInsights – it's a tool that tracks the number of web visitors on your blog.
Congrats! You have your blog ready and fully functional. But unfortunately, it's as empty as an old abandoned building.
This now smoothly takes us to our next amazing step on how to make a blog in Kenya.
Step #5: Write Your Blog Post & Promote It.
Once you're are done with all your setup you have to speak to the world now. And this is by writing a blog post and then promote it to your audience.
A blog post is a piece of information for your readers.
For example, what you are reading here is a blog post that shares information on how to create a blog in Kenya as a beginner.
WordPress is an amazing tool. It has word editing tools similar to your Microsoft office editing features.
Within the dashboard, you can create a post edit it, and then publish it.
But before you write a blog post here's what you should do first.
Think of the problems that your audience in your niche is facing. For example, if you are in the financial industry one of the problems that your audience has is to save money.
Figure out how you can help your audience solve those problems. E.g collect information that will teach them "how to save money".
Research to get more accurate information.
Write a post outline. This will enable you to have your ideas naturally flow as you write.
Craft a perfect post headline. Good headlines attract readers to your blog posts.
Start writing your WordPress post.
Hover on to your site's dashboard and click on posts then Add new.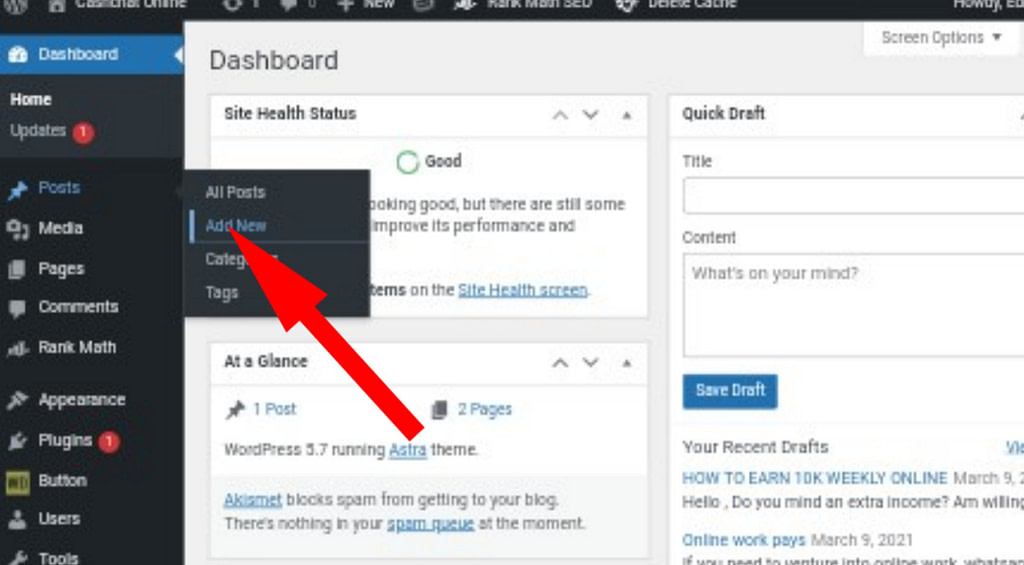 Enter your blog post headline. And then write your start writing your stuff.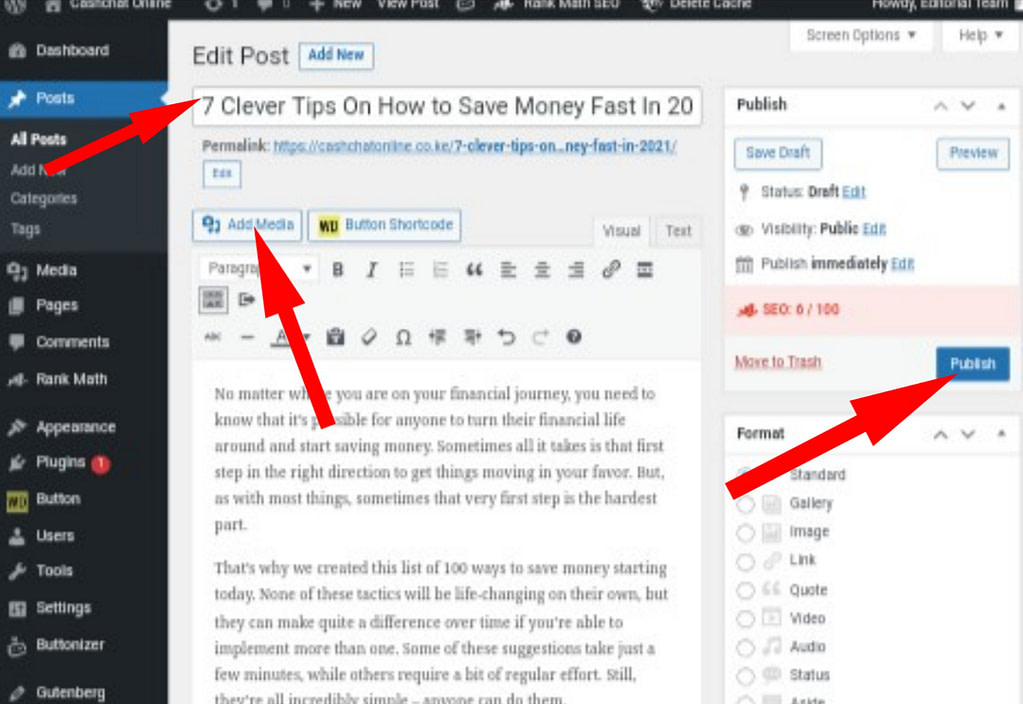 Use the editing tools like Bold, Italics, and links.
Add relevant images into your blog posts images are good to make your blog posts great.
Once you are done, you can click on "save draft" to save your draft or publish if the post ready and fully edited to bring it to live.
By that, you would have created your first blog post.
What follows is that you need to promote your blog post.
You want to get people reading your posts and then turn them into customers.
In short, you need to grow traffic for your brand new blog.
This is how to promote your brand new blog in Kenya and grow traffic.
Create a Facebook page and promote your blog post to your followers.
Promote your posts to your Twitter followers. Tweet it 5 to 9 times a day for your first week when your post is live. Use hashtags to have your posts reach more people.
Share it with your friends on Facebook also.
Optimize your blog posts to rank on Google. This is a very excellent way to get valuable, free, and evergreen traffic.
Start building an email list. Here in BloggerKenya, we use ConvertKit as our email marketing tool. It's free up to 1000 email subscribers.
Collab with other bloggers in your niche. Bloggers are amazing we help promote each other.
Guestpost on other blogs.
Answer questions in Quora.
Now it's time for the most interesting part of blogging. How bloggers in Kenya get paid and how much you can make blogging from Kenya.
Step # 6: Make Money From Your Blog.
Everyone loves this part. And so do I. Once your blog traffic has begun to grow maybe 500 visits a day, you can now monetize it.
With that little traffic, you can make few bucks to push on to the next level.
Then how do you make money blogging in Kenya?
Earn Through Advertising; You can apply for Google Adsense and begin running ads on your blog. I don't run ads on my blog because I don't like them. As a beginner Advertising is a good choice to get started. I have friends who make over $1500 ( Ksh 150000) monthly from Adsense alone. That's a good income.
Affiliate Marketing; you can sell affiliate products on your site and earn a commission when your readers use your affiliate links.
Sell Online Courses; if you are an expert in your niche you can offer online courses to your readers. For example, say you are a computer programmer, you sell online courses to your readers who want to become programmers.
Directly sell your ad space; if you don't like running ads from google you can sell ad space to your clients and agree on how your revenue will be computed. This is a great and the most profitable way of running ads. For example, a news blog like Tuko makes millions per month from directly sold ads.
Sponsored posts; you can post sponsored posts and earn revenue.
Offer freelance services; Since you now know how to start a blog and write a high-quality blog post you are one step ahead of others. Busy business runners can offer to pay you to write a great article for their websites. To get such clients you can visit Job Boards like Problogger.com, BloggingPro, Craiglist or use freelancing websites such as Upwork and Fivver.
Get paid to test and review a product; when you are an influencer in your niche, companies can pay you to try and write a review about their product.
Offer Consultation Services; Companies can pay you for just marketing advice from you.
How Much Money Can You Make Blogging In Kenya As A Beginner?
It all depends on your niche and the methods that you choose to monetize your blog with.
If you are ready to put some effort and take your blog as your business, on average you can make $250- $500 monthly blogging as a beginner.
Which are the best Best Ways To Monetize A Brand New Blog In Kenya?
Running Ads, affiliate marketing, and offering freelance writing services are the perfect ways so far to begin generating an income from your blog.
Form running Ads you can apply for Google Adsense and monetize your site. If your site is not approved, Adsterra is another platform that you can run ads from with as little traffic as you have.
Concluding
Blogging can make you a good income.
That's true. Websites like Tuko, Mpasho, Ghafla, The Standard are making millions a month.
So a blog can change your life. Whether you are jobless a fresh graduate, a stay-at-home mom, an employee who's paid meager salaries, blogging can change your life.
If you need any help, just hop on the whatsup button and send us a message. I am here to help you create a blog in Kenya that will earn you money.
Now my question is, what's making you not start a blog? What's holding you back?
Please let me know how I can help you write it in the comments section below. I will respond to you as quickly as possible.