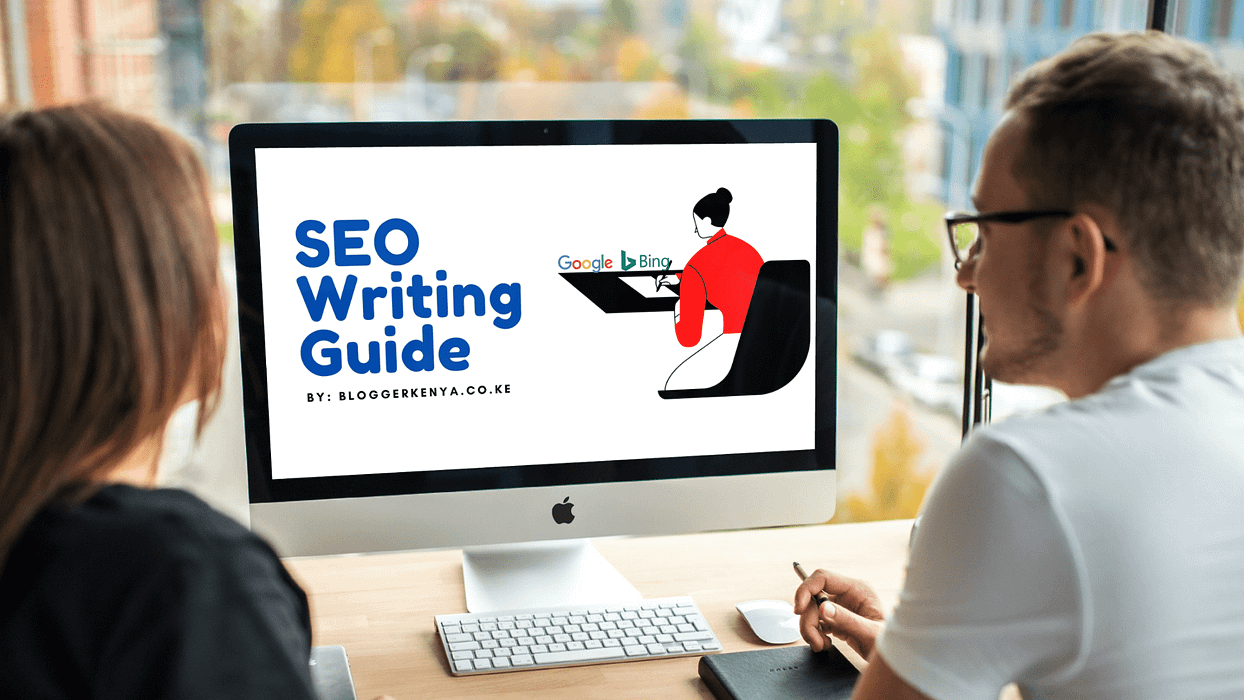 This is the simplest guide to SEO writing for beginners.
If you are wondering how to write quality content that appeals to your readers as well as ranks on the first page of search engines like Google then, I bet you'll fall in love with this guide.
I have also included lots of examples to help you with your SEO content writing.
So, let's jump right in.
What Is SEO Writing?
SEO writing refers to creating and optimizing content to rank on the first page of search engines like Google, Bing, and YouTube.
However, what you didn't know is that writing for SEO is all about balance. That is balancing readers and the search engine bots in your writing. Like a beam balance.
Put it this way;
When you optimize your content for search engine bots only, your sentences will sound unnatural to humans. And of course, nobody is going to read your robotic-sounding content.
On the other hand, if you write for readers only, the search engine bots may not understand your content. The results – no rankings.
Therefore, if you want your content to rank on the first page of Google you need to balance the two variables: the search engines and your readers.
What Is an SEO Content Writer?
An SEO content writer is a person with all the skills to create content that's tailored to solve reader's needs as well as appear on the first page of search engines.
As an SEO writer, you craft content that helps solve readers' problems along with making sure that the search engine bots understand the information packed in the piece.
In short, the blog posts and articles that you read when you search for information on Google are the work of an SEO content writer.
How to Write Great Content for SEO and Readers
Great content stands out. It ranks on Google and engages your readers with your brand.
Nonetheless, just including your focus keyword severally in your post does not guarantee higher page rankings. Your content has to be truly actionable and legitimately optimized for search engines.
So in this section, I will be showing you how to write a masterpiece that people will love as well as the search engines.
1. Start by Identifying a Valuable Keyword
In SEO writing, keyword research is pretty important. For one reason, you can find the right search phrases that your targeted audience is using on search engines to find information, a business brand, or a product
You also know how easy or hard it would be for your website to rank for that keyword.
The question is, how do you properly do keyword research for better SEO content writing?
Firstly, you need to know the kind of topics that pique your targeted audience's interest.
For example, say you want to write a post on " how to lose weight". Well, you need to know the type of questions that your audience is searching for about the topic.
One method is by using Google's autocomplete. Just enter your search phrase but don't hit on the enter button.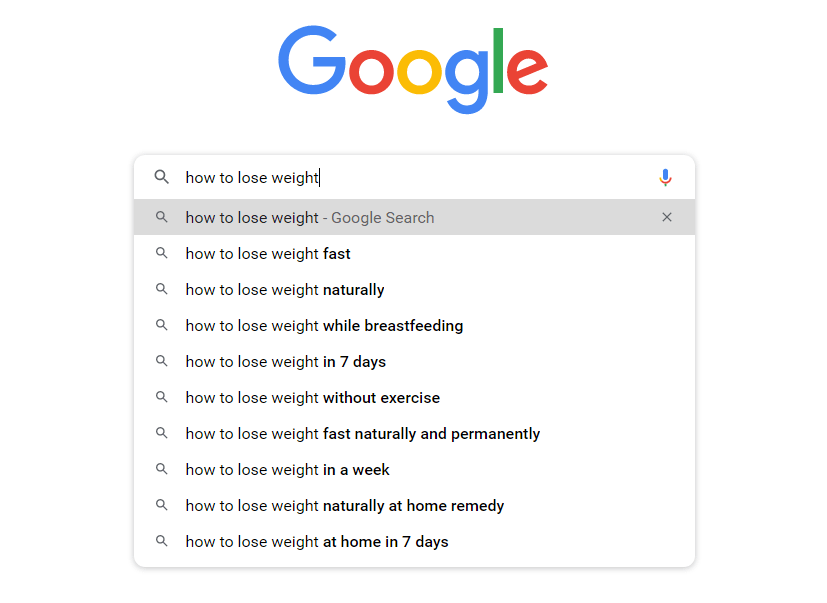 You'll get tons of keyword ideas that your audience is searching using on Google. This method is effective since you generate keywords ideas from Google's data
The other method is by using Quora. Quora is a question and answer website. Head over to Quora.com and over on the search bar enter your keyword.

And you will get tons of questions that your audience is asking.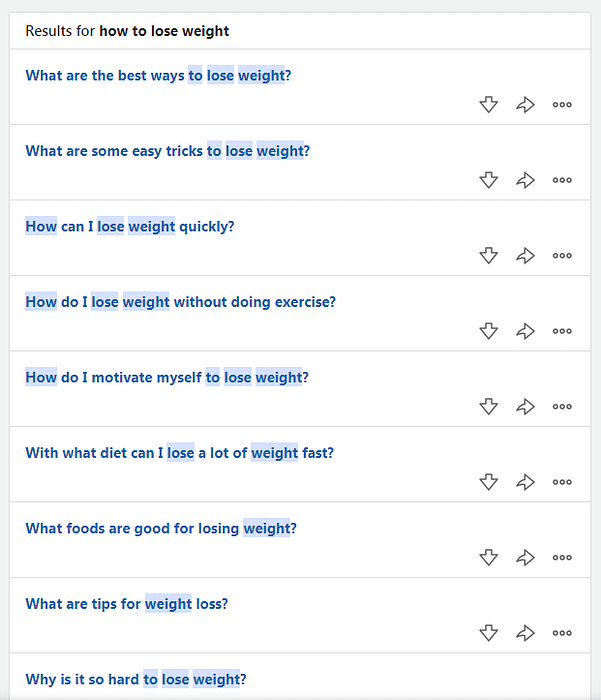 To get more related topics, click on one of the questions then pay attention to the related questions section right on the sidebar.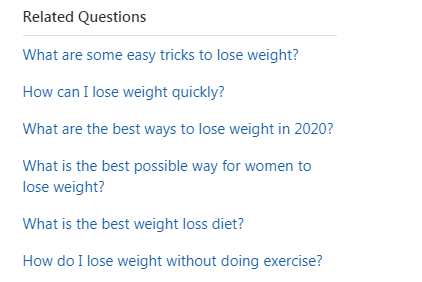 I would also suggest you use another amazing tool called QuestionDB. Just hop into the tool and enter your keyword.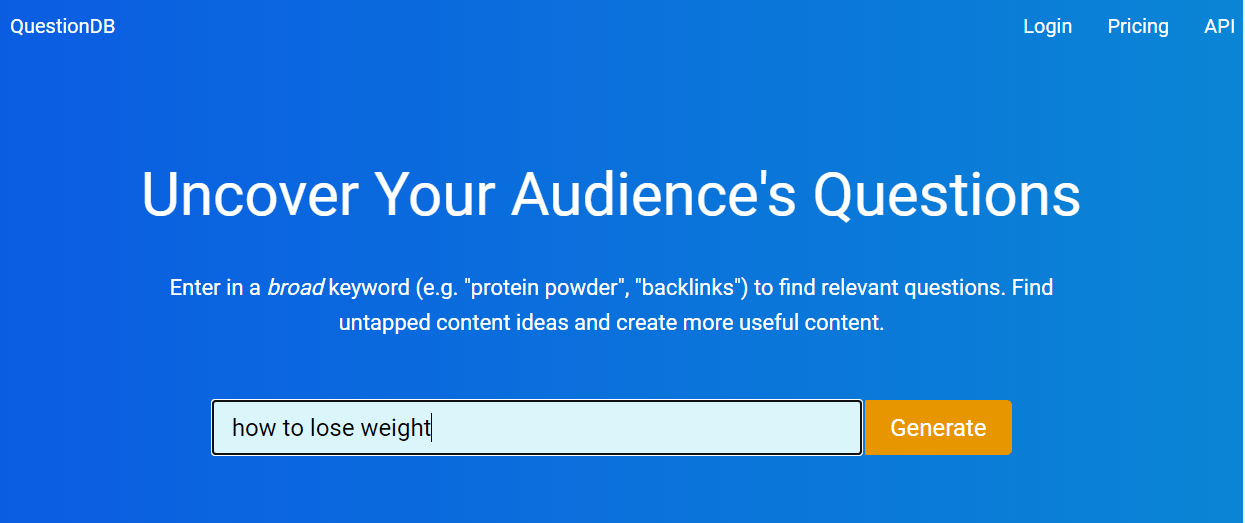 You'll come across several questions that your targeted audience is asking.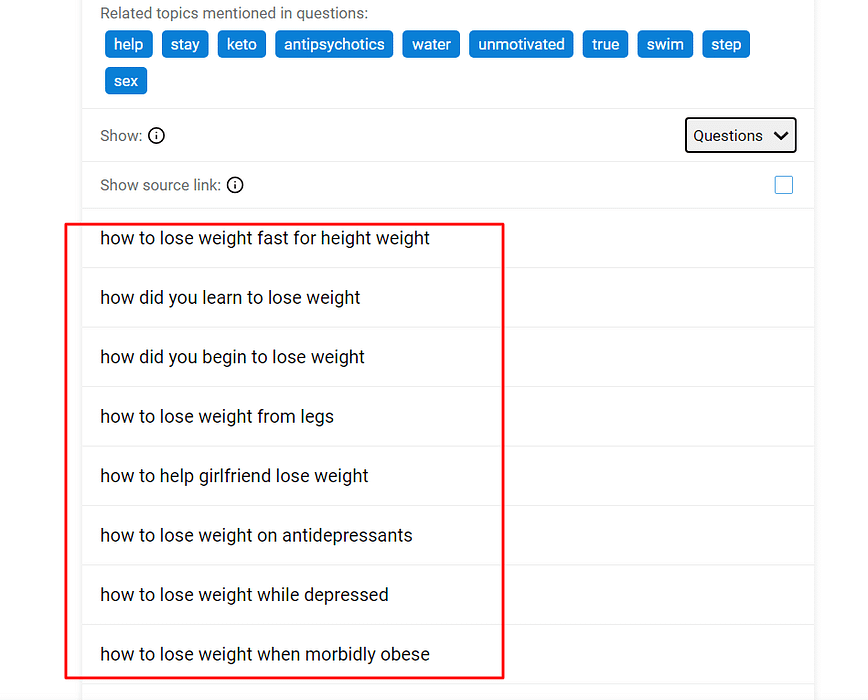 Lastly, I would also recommend another tool called BuzzSumo.
This tool however shows you what content, product, or business got viral on social media. But what's cool about Buzzsumo, you can discover keywords ideas using this tool.
Jump right into the tool, click on the "discover" menu option, and then "Keywords". Enter your search phrase and hit enter button.

And you will get lots of keywords ideas.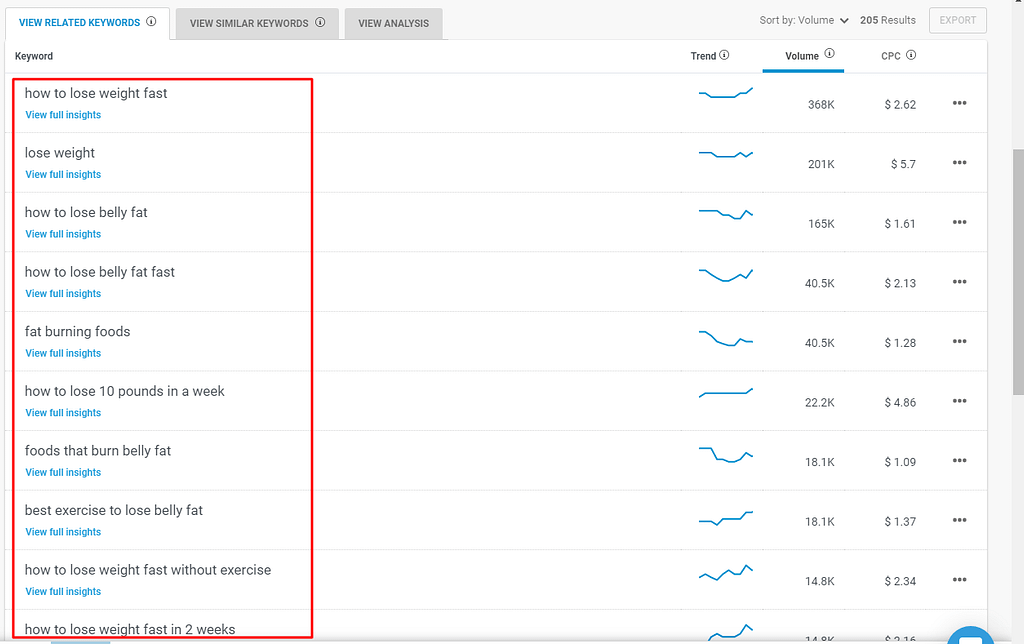 Once you've understood the questions or more ultimately the keywords that people are using in their Google search it's time to know more about the keyword.
Obviously, you want to write content that is more likely to appear on the first page of Google.
And that's where you'll need a keyword tool in abundance. There are several tools you can use to research the keyword. At the moment, we are going to use an amazing tool called KWfinder.
Just hop into the tool and type in your search phrase say, "how to lose weight fast".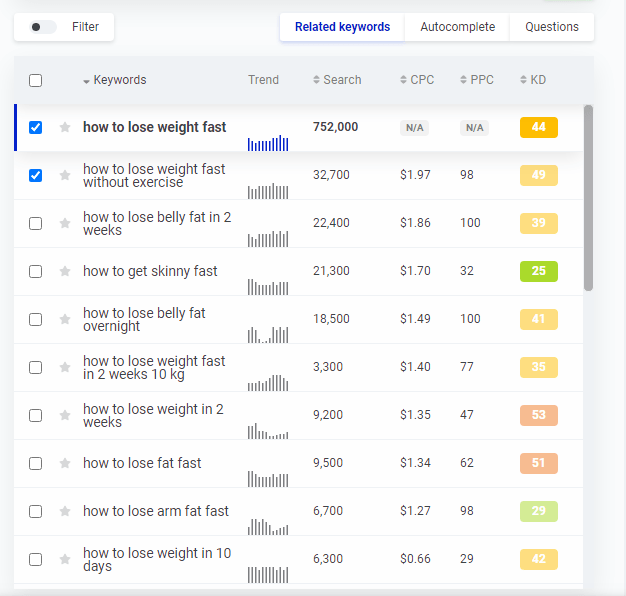 You'll get the relevant metrics about the keyword.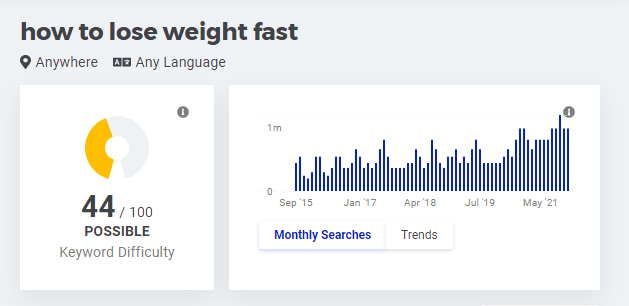 That is;
Keyword Difficulty – how competitive the keyword is. The higher the score the less the chances are for ranking for that keyword.
Search Volume – the number of people who are searching for the keyword on Google. In short, how popular is the keyword?
Keyword Trend – this helps understand the overall interest for the keyword. Is it booming or slowly diminishing?
Cost Per Click (CPC) – this helps you understand if people who are searching for that keyword are spending money. If a keyword has a high CPC it means that more people are likely to convert than a Keyword with high search volume but zero CPC.
Once you have these metrics at hand, you'll know if it's possible to rank for that keyword. Either way, you don't want to choose a keyword that's close to impossible to rank.
2. Create a Headline That's Optimized for Higher Clicks
In SEO writing, great headlines are among the critical parts of your content.
The headline is the only way to make people click through to your blog post. A great headline will not only attract readers to your content but also helps your content rank better on the search engine results page (SERPS).
Since, when most people click on your headline on the search results page, Google will assume that your page is what users want.
Which is why you need to write a post headline that attracts both people and is optimized for search engines.
Follow these steps to make your content title great.
First things first, make sure that you place your focus keyword early on your headline. Search engines especially tend to truncate long headlines on SERPs.
This implies that your focus can get truncated on SERPs and your readers may end up feeling as if they are missing out on something from your headline.
For example, take that your focus keyword is 'Best SEO tools". Then you would want to include the keyword early on in your title. Just like what I've done on these titles.
15 "Best SEO tools" to Use Today.
Which Are the "Best SEO Tools" For Beginners?
A list of 23 "Best SEO Tools" to Boost Your Rankings.
Though including your focus keyword in your title is vital in SEO writing, the job does not end there.
You need to make your headline catchy to entice your reader to click through to your content.
Imagine these kinds of headlines
"15 Best SEO Tools" and "A List of Best SEO Tools". Pssssst! Way too generic
What if you get a little bit creative to make your headline attractive such that your readers can't resist clicking.
For example:
"15 Best SEO Tools For Better Page Rankings" and "20 Best SEO Tools Your Favorite SEO Experts Are Using ". Such titles are easy to convince a reader to click through to your post.
Now, when I mean you need to create a captivating post headline that doesn't mean you should create clickbait headlines.
When your title verges into the land of clickbait the value of your content plummets. And the results, low click-through rate.
As a result, make sure that your titles are legitimately interesting for your readers.
4. Work On Your Opening Paragraph
Well, listen, just because your title is great does not mean your content is great already. You have to do one more thing – engaging your readers to the body of your content. And guess what, your opening paragraph aka post introduction is what you should focus on.
Let's take it into the reader's perspective:
Literally, you use your first five seconds to read the introduction from the page you land on to figure out if the content there is what you're searching for. This means an awful intro can make you bounce back to the results page.
From Google's point of view, an introduction that is optimized for relevancy will make them view your page as quality.
For example, if you try to include your focus keyword early in your content, it will help Google understand your content early.
Now, the big question is how do you write amazing post introductions for people and search engines? The answer, use the HPPT opening formula. It stands for, hook, problem, preview, and transitioning.
The hook is your opening sentence. It should be catchy, topic-relevant, and if possible very short. The purpose of the hook is to entice your readers to read the next sentence of your introduction.
For example:
"Most content written out there is dead boring."
Next, is addressing your readers' problem. That is the first "P" in our HPPT formula. At this point try including the focus keyword.
Here's a great example:
" For most beginners, creating engaging content can be frustrating. This results in a poor page experience and low conversions. That's because most readers don't interact with your content. "
Then give your readers a short preview of your content. And that's the second "P" in the HPPT opening formula. Here's a good example.
" Today, I will help you write engaging content that readers can't resist reading till the end".
Finally, don't leave your readers hanging. Connect them to the body of your content. that's by transitioning.
" Let's get started."
Join everything up and you have your introduction perfectly polished.
5. Write Content that's Easy to Digest
If people hardly engage with your content, it's all trash and you can have it in your recycle bin. Hey, don't you dare say a word. Because I want us to be sincere here.
Ok, assume this.
You go on to Google and search for " how to trade your securities". The first result seems to delight you and you click on it.
However, the piece uses tons of technical terms, has long sentences, and is very boring. Since you can hardly understand the content, you decide to bounce back to the results page.
Then you move on to the next result. The blog post seems to be using very clear and simple language. It's packed with tons of images and presentations and uses very short sentences. You end up spending five minutes reading the post.
Eventually, the second post will achieve a better user experience. Get more backlinks as well as social shares. Finally, Google will give it a ranking boost.
Generally, people hardly read online. One study shows that the average time people spend reading online is 15 seconds for 55% of your visitors.
In such a short span of attention that you have from your readers you need to make sure that your readers engage with your content.
So how do you achieve this?
First, make sure that your content is easy to read. Work on your grammar. If you are a non-native English speaker like me, make use of tools like Grammarly.
Or else hire an editor. Avoid using any hard terms that can make your reader pause to think what you mean.
Secondly, rip off any passive sneaking voice in your content. Passive voice makes your sentences sound just lame. Instead, write as if you are speaking to your friend.
Precisely, use an active voice while writing your content.
Avoid:
"Your content needs to be optimized for SEO".
Rather go for:
"You need to optimize your content for SEO".
Thirdly, use short sentences. Long sentences are tiresome and complex. Don't make reading just one sentence a journey for your readers. Then, fall in love with the "dwarf" paragraphs. Giant paragraphs drain your reader's reading morale.
Finally, use visuals. Why use visuals. Psychologically, our brains are attracted to visuals. Content in visual format is processed 60000 times faster than just plain text.
So just don't write a block of text and call it a day. Use screenshots, photos, presentations, infographics, and videos to spice your work.
6. Exploit the LSI Keywords
Google is getting smarter nowadays. They don't care how many times you include your focus in your content
Since the launch of the rank brain, google can do contextual indexing. This means that just like a human google does read your content and understands it.
This is why keyword density does not matter at all. What matters are the LSI keywords? Well, what are LSI keywords, and how do you use them in your SEO writing?
Latent Semantic Indexing (LSI) keywords are terms that are closely related to your main topic, your focus keyword.
LSI keywords are vital in writing content for SEO and readers. They help your readers and the search engine bots understand your topic very well.
LSI keywords are an indication of how well covered your piece is.
Take, for example, if you have an article on how to start a blog, then some of the potential LSI keywords in your content are:
Web hosting.
Domain
Niche
Blogging topic
Blogging platform
Blog posts.
Post content.
Theme
Website
Blogging tool
Blog traffic
Many more…
Including these keywords, tell the search engines how well you have covered your topic. Other LSI keywords are just a slight variation of the main keyword.
For example, say you have a piece on " best CRM software".
Potential LSI keywords would be, "CRM systems", "best CRM tools", "sales CRM software" and "easiest CRM".
The big question is, how do you find LSI keywords?
One way is by writing naturally for readers. Most of the LSI keywords will flow in naturally. Now, let us take our previous "how to start a blog".
The fact is you'll find yourself including keywords such as "domain name", "web hosting" "blog posts", "WordPress" e.tc just naturally.
That way you wouldn't have stuffed your content with the keywords.
Another way is by making use of the "search related to" at the bottom of the
Google search results page.Just type in your focus keyword on google, say "how to get a loan". And scroll down to the bottom of the page.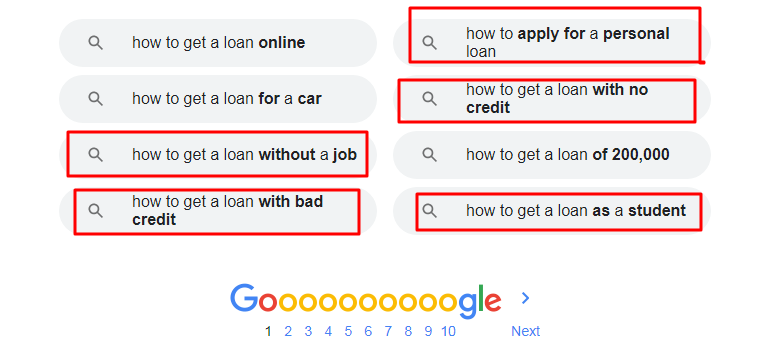 And you will get gold worth LSI keywords. Although not all are important it makes sense to choose what is more related to your topic.
For better LSI keywords research, I suggest that you try these tools :
7. Optimize Your Content for Search Intent
Search intent also known as user intent is the goal that a user has in mind when searching for content.
Simply put, it is what a user expects when they search for information, a business, or a product on search engines.
For example, if you Google, "chicken tikka masala", chances are you're searching for a recipe, not a place to buy chicken tikka masala. This is why what ranks on the first results page are recipe websites and YouTube videos speaking of the same.
If you end up writing anything else, ranking for the keyword equals daydreaming.
So how do you know what to write for search intent?
One simple step is by analyzing what ranks on the first page of Google. Here's what you should check.
What type of content is on the first page? Is it a list post or a definitive guide?
What's the average length of the posts that rank on the first of Google.
The business is fit for ranking keywords. In short, are users searching for a product, tool, or just content?
When you get answers to these three answers you'll have a clue of the type of content that your audience needs.
8.Don't Tell but Show
I have seen this on most posts. They just tell you what to do but don't show you how exactly to do it.
Take this example:
I have a blog post-A about how to speed up a website. So in the guide, I just talk of the obvious about page speed optimization. That is page caching, minification, fixing the render-blocking resources, image compression, and moving to a better host. Name them all.
Then I have a blog post-B. This time round I write pretty much the same thing but decide to dig deeper in my tutorial.
So I decided to start with a sample page that is not yet optimized. Then I will show you exactly how to speed up that slow page.
I Include tons of screenshots and show you the final page score after the optimization.
At last, blog post-B is likely to perform twice as much better than blog post-A.
WHY? Data.
In the same case don't just slap a block text and that's all. Figure out how you can make your content 10 times better than your competitors'.
Say, their posts don't include an image. Then don't hesitate to include pretty much all of them. If their content does not include data. Go collect data.
That way you'll boost your content's credibility. And once you manage to win your reader's trust then you'll ultimately win Google's as well.
9: Have a clear Call To Action (CTA)
After all, you write that piece for marketing purposes. This is why you madly want it to rank on the first page of Google. Since, more traffic means more sales for your business, right? Wrong.
Why, because if you don't inspire your readers to take action after reading the post your marketing efforts would all be in vain.
Call to action means stating what you want your readers to do after reading your content. Maybe you want them to sign up for your newsletter, click on your affiliate link or even leave a comment.
Having a clear CTA will help boost your conversions and improve content.
That's because you would've already told your audience what to do once they've read your post. For example, ending your conclusion by telling your readers what to do will make your readers leave more comments.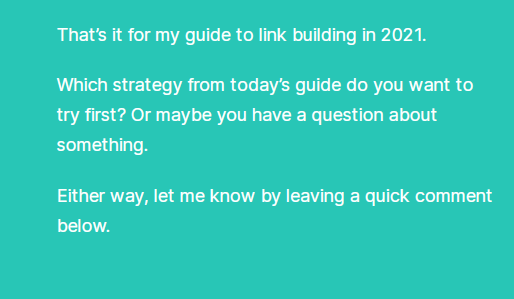 Conclusion
SEO writing can be confusing for most beginners. But after reading this guide, I hope you've learned something.
Now, let's do something fun, shall we?
Do this. Craft a two-sentence hook that you would want to use in your post introduction. Then drop it right in the comments section below.
Get Quality Content

Hi. I hope you've enjoyed reading this ultimate guide. Would you like such an insightful guide published on your blog? Then, let me handle your content production and optimization.