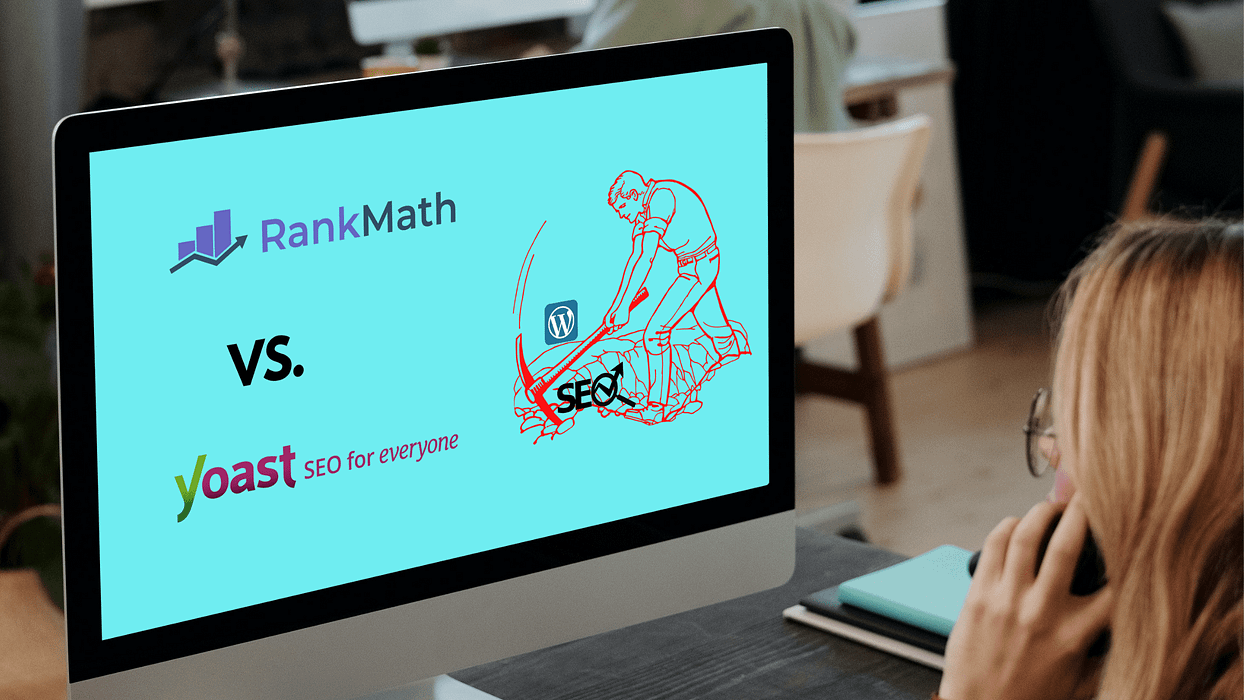 This is the most unbiased review of Rank Math vs Yoast. If you are new to WordPress SEO and wondering which SEO plugin is the best for your site, then I bet you'll love this review.
Both Yoast and Rank Math are two popular SEO plugins. When it comes to choosing either of them, it can be confusing for most beginners.
Which is why I decided to write this review and show you what the two plugins have to offer you under the hood.
So let's get started.
General Introduction
When it comes to optimizing your WordPress site for search engines, you need an SEO plugin.
Yoast is a big name in the world of WordPress SEO. It is currently the most popular SEO plugin ever known.
At the time of writing this review, Yoast had over 5 million active installs with a perfect 5 -star review by over 25732 reviewers.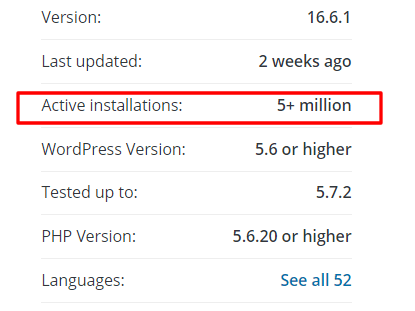 On the other hand, Rank Math is getting more popular in WordPress SEO than ever.
Launched in 2018 by a reputable WordPress theme developer ( My Theme Shop),
Rank Math has managed to build a strong fanbase in very a short period of time. With over 800000 active installs in just three years, that's rapid growth, of course.
And it goes without saying that Rank Math is a direct competitor for Yoast.
Maybe, in about five years to come, Rank Math would also have attained the five million active installs like Yoast. Who knows!
Rank Math vs Yoast SEO Review
Now, let's get into the nitty-gritty of this Rank Math vs Yoast comparison.
We shall dive deep into what each plugin has to offer you. Both in their paid and free plan. The performance of each plugin and its impact on your WordPress site speed performance.
General Features Comparison
Rank Math is a free WordPress SEO plugin. This plugin is packed with unique features that most SEO Plugins such as Yoast or All in One SEO Pack (AIOSEO) have in their paid plans.
With the Rank Math free plugin, you access the following features:
One demo imports from other SEO plugins like Yoast and AIOSEO.
Redirection feature.
An automated Image SEO feature – which automatically adds an ALT for images missing one.
Able to optimize your content for five keywords.
XML sitemaps.
A very comprehensive Content analysis feature.
Direct access to the .htaccess and robot.txt files.
Local SEO and knowledge graph.
Internal linking suggestions.
SEO titles and meta description feature.
404 Monitor – this feature helps you redirect your broken links to other pages on your site.
Schema Markup – with this feature, you can set up the structured data for your content types.
Social previews
Social media account integration.
Post preview on search engines.
What's impressive is that all these features are easy to control.
If in case you don't need either of them, you just disable them by clicking a toggle button.
Rank Math makes it even easier for a total beginner to optimize their site for SEO by enabling the essential features by default.
On the other hand, Yoast comes packed with all the essential features that you'll need to optimize your WordPress site for SEO.
As a free user of Yoast, you access the following features:
Able to set and preview your SEO Title and Meta descriptions and create templates that apply automatically to your content.
Allows you to set and customize your XML Sitemap
Keyword analysis feature – only offers one focus keyword optimization for your content.
Set a Sitewide Schema Markup for your content.
Quickly verify your site ownership with the Google search console.
Search Console – verify your site with Search Console.
Easily integrate your site with social media.
An excellent content analysis feature – checks the readability of your content and checks if it's optimized for SEO and people.
Set social media descriptions – control text and images for Facebook and Twitter.
Basic WooCommerce SEO – e.g, set the titles/descriptions for products and shop pages.
Cornerstone content – mark important pages as "Cornerstone" to help optimize them and get more internal links.
Breadcrumbs – add breadcrumbs to your site.
Link Counter – count the number of internal links in your content.
What I love about Yoast is most probably their content analysis feature.
You can know if your content is easy to understand for your audience. To a beginner, it can be a very significant feature. Also, Yoast is a very easy-to-launch SEO plugin. Their setup process is a breeze.
Both plugins have all the essential features that you'll need to begin to optimize your site for search engines.
However, Rank Math has more features than Yoast.
With Rank Math, you can optimize your content for five keywords, while using Yoast, you can only optimize your content for only one focus keyword.
This way, Rank Math gets to be a perfect SEO plugin to use to optimize your content for search engines.
Rank Math vs Yoast – Premium Features Comparison
Although Rank Math is a primarily free plugin, they have a premium version.
So here is what you get when you use the premium version of Rank Math.
An advanced keyword tracking feature – this way, you can track the performance of your keywords for the last 12 months. In short, you can get detailed insights into your keyword performance.
Advanced Schema Markup – Rank math schema generator is enough to use and help configure your post content type. Rank Math Pro will mainly give a helping hand to provide markup for video content.
Easily integrate google trends with your site.
Advanced image and video sitemaps Seo.
Local SEO Knowledge graph.
News sitemap.
Track more than 500 keywords.
An advanced Google Analytics integration feature.
SEO Performance Email Reports.
Easily import Schema From Any Website
Automatic Video Detection for Video Schema
Track Top 5 Winning Keywords
Track Top 5 Losing Keywords
Track Top 5 Winning Posts
Track Top 5 Losing Posts
Advanced Content SEO Overview
Check Ranking Keywords for Each Post
Position History for Keywords & Posts
Add Unlimited Multiple Schemas
840+ Schema Types Supported
Google AdSense Earning History
Watermarked Social Media Images
Complete Elementor and Divi Integration
Just like Rank Math, Yoast has a premium version. Yoast offers most of their advanced features in their pro plan.
So when you choose the Yoast premium, here's what you get;
A redirection manager feature – create redirection to any form, e.g., 301 redirects.
Analyze your content for multiple keywords.
It helps add synonyms and LSI keywords that are related to your content and help boost your rankings.
Internal linking suggestions.
Seamless integration with Elementor.
Rank Math vs Yoast – Speed Performance
Rank Math boasts of being lightweight and less bloated than Yoast.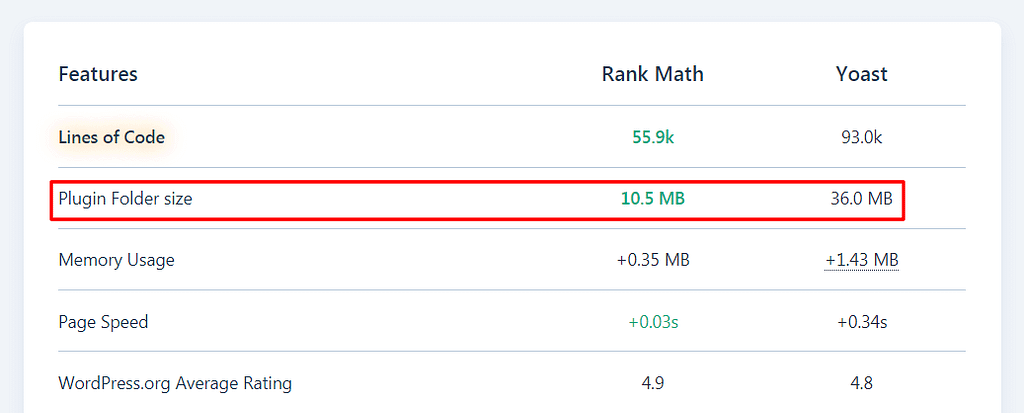 However, we did want to assume that. So we decided to find it for ourselves. Here's what we did.
We created a demo site using the default 2021 WordPress theme.
What's next is that we installed Rank Math as the only plugin on the default site. After that, we ran a speed test using GTmetrix.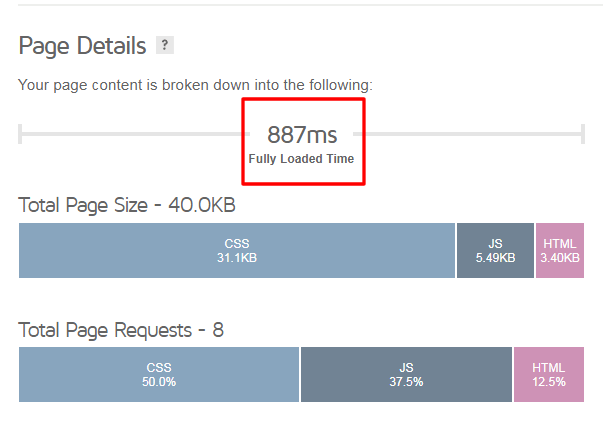 But one single test is not enough to conclude that Rank Math is fast. So we decided to take two more tests and figure out the shift in their loading time.
And here's what we got for our second Rankmath's speed test.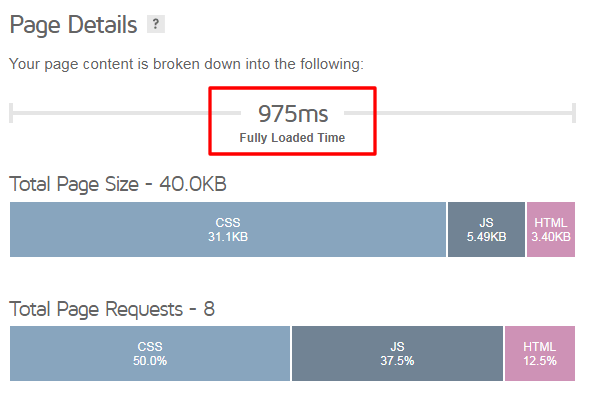 And also the results for our third speed test experiment.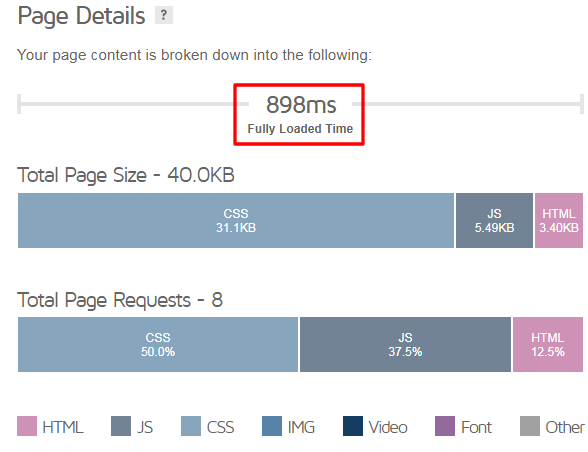 That's a good performance.
We also did the same for Yoast. We installed Yoast to our demo site built using the default 2021 WordPress and ran our tests Gtmetrix.
Here're the results for the first speed test for the Yoast SEO plugin.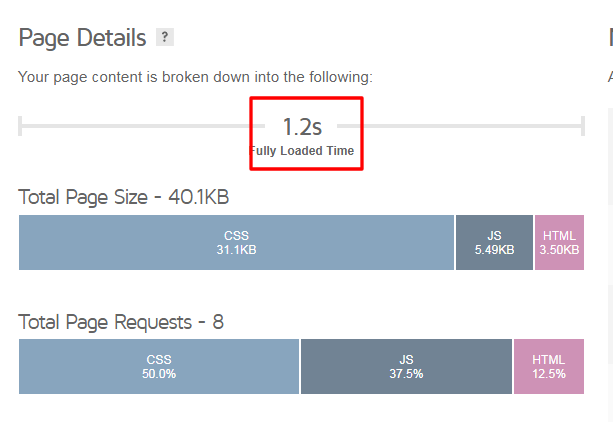 The results for the second test.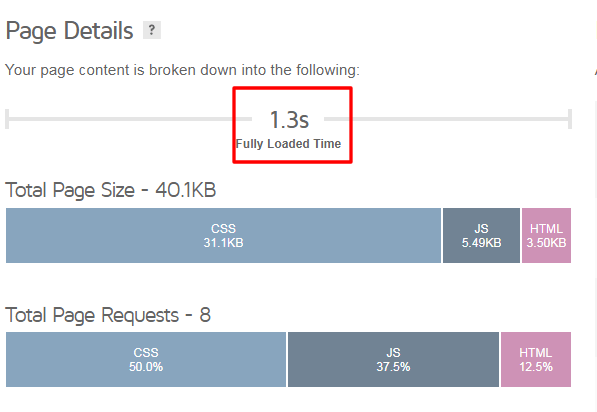 And finally, the results for the third speed test.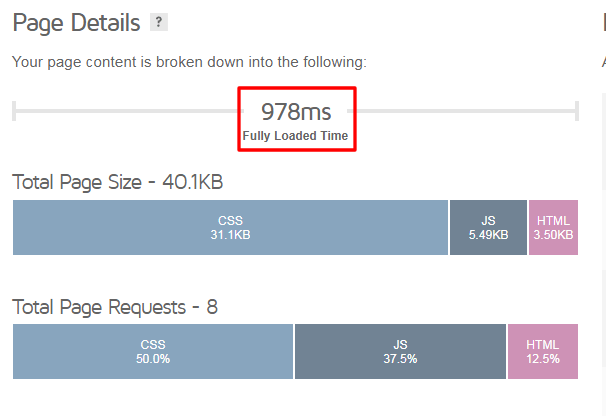 It seems Yoast is truly bloated. So in our speed test performance, Rank Math took the gold medal home.
Rank Math vs Yoast – Content/ Keyword Analysis
Both Rank Math and Yoast have an outstanding content analysis feature.
This way, it helps with your SEO writing and knows how well you've optimized your content for search engines.
However, let's check on how each plugin helps optimize your content for search engines and people.
Rank Math will give your content a score ranging from 0 – 100 on how you've optimized your content for the search engines.
This means the higher the score, the better your content is optimized for the search engines.
Over to your editor's sidebar (we're assuming you are using the block editor), you'll get to know what your content is missing.
Just enter your focus keyword.
And you will get a detailed breakdown of how well your site is optimized for SEO and readability.
And what's more interesting, you can optimize your content for more than five keywords.
Though Rank Math is so intuitive, I didn't like their readability analysis feature. It's too basic and does not have much to offer.
Now, let's see what Yoast has in its content analysis feature.
Yoast gives you a content analysis with all the essential features that you need to optimize your content for search engines.
The downside of it is that most of the content analysis features are in the paid plan.
To optimize your content for more than one keyword, you need to get their pro version.
This is very disappointing since you can access these features using the free Rank Math version.
However, Yoast has an outstanding readability analysis tool. As we all know, great content which ranks on Google balances readers and the search engines bots.
This way, Yoast helps understand how easy it is to understand your content to your readers.
In readability analysis, Yoast is a winner.
Rank Math vs Yoast – Price Comparison
Both Rank Math and Yoast have premium plans. If at all you are looking forward to unlocking more features, you need to purchase their premium versions.
However, Rank Math is way cheaper than Yoast.
For some reason, Rank Math offers a plethora of features in which you will only get them in Yoast premium.
For example, Rank Math offers a redirection feature in their free plan, which you will only get when you upgrade to the premium version in Yoast.
Now let's check the pricing of the individual plugins.
Rank Math only has two plans for their paid version: The Pro version and the Business version.
The Pro version will cost $59 annually and comes packed with neck-breaking features, and you can use it on an unlimited website.
The business version will cost you $199 per year.
What's interesting about the Rank Math premium features is that you don't have to pay for other extensions.
Yoast, on the flip side, will cost $89 for a single license for one website. And the price goes up with the number of websites that you are using on your websites.
What's more frustrating about Yoast is that they don't include every feature you'll ever need in their paid plans?
And what they do is that you'll need to pay an extra $69 if you need either of these premium extensions:
Video SEO for WordPress.
Local SEO.
News SEO.
Yoast WooCommerce SEO.
Also, the price of each separate extension will go up according to the number of websites you use the paid version.
Otherwise, if you've got more than three websites that you are managing and you'll need either of these extensions, it would cost you an arm.
Yet, if you were to use Rank Math, everything is included in one pack.
When it comes to pricing, I can confess that Yoast is way too expensive. Otherwise, Rank Math will supplement your budget.
Integration with other CMS/ Platforms
Not a WordPress user? Okay, I know you must be wondering, is Rank Math or Yoast available on other platforms such as Wix, Drupal, Squarespace, to mention a few.
The bad news is that Rank Math is explicitly created for WordPress users.
If WordPress CMS does not power your website, you cannot use Rank Math for search engine optimization.
Yoast, however, is a multi CMS plugin for SEO. Yoast is available on platforms such as Neso CMS, Drupal, and TYPO3.
Conclusion
If you want to boost your website SEO performance, you need a great SEO plugin.
Yoast is a great plugin to opt for. For one reason, Yoast has been in WordPress SEO for quite a good time.
This means they know the ins and outs of WordPress SEO.
However, Yoast hides more features in their paid plans which you would need.
Yoast is an ideal plugin if you are just getting started with SEO since it has a comprehensive content analysis tool.
On the other hand, if you want to get more advanced features all for free and venture into technical SEO, then, Rank Math SEO plugin is a perfect solution. It's easy to use and has more features than Yoast.
Now, what plugin are you using to optimize your WordPress site for search engines? Is it Yoast or Rank Math? Share your experience down in the comments section.