What most marketers and bloggers tell you about making money online is overrated. Making money online in Kenya isn't as simple as it seems like and sorry for being the bearer of the bad news.
So if someone told you that you could become rich quickly from the internet that's a naked lie.
You would rather want to continue with your 9 – 5 job. At Least you're assured you'll receive your paycheck at the end of the month.
Either way, to build an online business that makes money, is not as complicated as you might perceive it. As long as you are willing to get your hands greasy, it's possible to make good money online while in Kenya.
Today, I will be showing you real and profitable ways to make money online in Kenya in 2021.
Without further ado, let's get started.
12 Profitable Ways To Earn Money Online In Kenya.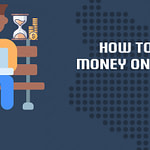 1. Start An Online Store/ An eCommerce Website
The E-commerce industry is constantly growing. According to Google Trends, the overall global interest for the keyword "e-commerce" is continually escalating.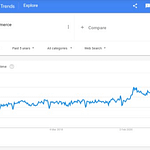 Most people love the fact that they can order anything right on their smartphone and get goods delivered to their doorstep.
But can you start an online store in Kenya and earn good money online? Absolutely! Companies like Jumia and Kilimall are harvesting huge sums from their eCommerce businesses. According to jumia quarterly income reports, in 2020, their General Macherndise Value worthed € 231.1 million.
Likewise, you can create an online shop and make money online in Kenya. For example a young company like Copia is picking up very well. It's getting on the radar with the giants like Jumia, Kilimall, Jiji.ke and Aliexpress.
To create an online store in Kenya you just need enough money to hire a web developer to design an e-commerce website for your business. The price will range from $1000 – $1500 depending on the agency or the person you hire.
Either way, if you need to sell a few products online like fashion products, books and household products, you can even do it by yourself without hiring a web developer.
All you need is to buy hosting and install an awesome plugin known as Woocommerce.
Bluehost is an excellent choice to host an eCommerce website. With as little as $29.95 ( approximately Ksh 3000) per month, you have your online shop running and fully functional.
If you need help during the setup, you can always contact our dev team and we will be more than willing to help you.
2 . Start A Blogging Site And Monetize It
This which you are reading here is a perfect example of a blog if incase you are wondering.
Creating a blog in Kenya is among the incredible ways to generate online income in the long run.
News blogs like Tuko and Ghafla are reaping quite a good income just by blogging online in Kenya. Now, you don't have to start a news blog to make a considerate income online. What you need is to find a niche where your heart lies. That could be about fashion, travelling, technology, education, digital marketing and the rest.
So what's the cost of creating a blog in Kenya? It's as cheap as a pair of trousers.
Well, to have your blog online, you need to register a domain and buy hosting. In total, this would cost you as little as Ksh 3500. See how cheap it is?
Check my step by step guide on how to create a profitable blog in Kenya right from scratch.
Once you have your blog online, in a nutshell, here are ways to make money online in Kenya through your blog.
Running Ads on your site. Google AdSense is a big player in this. As a beginner, you can make $700 from google AdSense to blog in the right way.
Sell Ads space to other companies: you can place an Ad from a particular company and negotiate the price yourself.
Sell your services: If your blog gains traction online, you can help other companies' websites or blogs succeed by offering your services. This can be content marketing, SEO services or digital marketing services at large.
Make money as a consultant: as you blog, you get to be very skillful in your niche. Other companies will pay you for your advice only. Sounds cool.
Earn money blogging through affiliate marketing: you can choose to monetize your blog by recommending your readers buy products from a particular company.
Sell online courses: as an expert in your niche, you can make money from your blog by selling online courses to your readers to pass on your expertise.
With those few ways to make money online in Kenya through blogging, let's get to our following method.
3 . Start A Dropshipping Company
Do you want to make more money online in Kenya with fewer expenses? Then, start an online dropshipping business.
Dropshipping is an online retail business model where the merchant doesn't own goods sold on the stock. The dropshipping company is responsible for accepting orders and then having the third party deliver products to the customers' premises.
Simply put, this is how dropshipping works. Say I own a dropshipping company called "njoyadrop.com". When you land on my site (njoyadrop.com) and buy a smartphone online, I will accept your order and then have it fulfilled by a third party that keeps good on the stock.
I don't need to have a warehouse to keep the products that I would be selling to you on my website. Instead, my third party company will take care of that.
So can you make money online from dropshipping in Kenya? And if so, how do you earn as a dropshipping company?
Once you have your online storefront, you need to set your prices higher than that of your third party. Say my third party is Oberlo and sells a Nokia Smartphone at $120. So I will sell a price higher than that of Oberlo, maybe $150. At the end of the day, I would have earned a profit of $30 from a single smartphone.
Isn't it awesome? Of course. To learn more on how to start dropshipping and make money online, I would recommend you to take a look at this guide from Oberlo
4.Make money online in Kenya as an affiliate marketer.
Affiliate marketing is an entirely free method that you can earn money online in Kenya.
If someone just told you to pay a subscription fee to earn money as an affiliate marketer, avoid them like the plague. The person is just there to milk your money.
Furthermore, that's not an affiliate marketing opportunity, but most probably it is a pyramid scheme. To check on the difference between affiliate marketing and pyramid schemes/MLM, check this guide.
To make money through affiliate marketing in Kenya is not complicated. It's one of the easiest and quickest ways to reap some bucks from the Internet than other methods.
I take affiliate marketing as one of the easiest and quickest way to make money online. Simply because you don't need any advanced training to get on. Surprisingly, this is what you need to do to begin making money online in Kenya via affiliate marketing.
You need to find a perfect product that suits your audience's needs: it doesn't make sense by promoting a too expensive product to your audience just because it pays you massive commissions. Get a product that solves their needs within their budgets.
Understand and understand the product that you're promoting: know how well your consumer will benefit from the product that you are selling. Take your time familiarizing yourself with the product.
You need to make people trust you: people don't buy products from affiliate marketers they hardly know.
Get smart in marketing: you need to become good at persuading and making people buy your affiliate products. Also, you have to know how to get the products to the right individuals. I would probably advise you to start a blog, create excellent content, and optimize it for higher conversions.
There tons of affiliate marketing platforms you can join and start earning money online in Kenya. Here are my favourites.
Do you want to learn more about the best affiliate platforms to join and make money online? Take a look at this guide from adamenfroy.
5 . Start Up A Freelancing Career
Despite being a blogger and a digital marketer, I have diversified my income through Freelancing. And so far, it's the sweetest online career you would ever dream pursuing.
Freelancing is an online service that you provide to a company. That could be writing blog posts, articles, promoting content, writing sales letters, designing websites, developing software, designing logos, offering social media management services and many more.
Just like affiliate marketing, Freelancing is 100% free to start. You don't need to buy a service, a product or pay a membership fee program. As long as you've got a PC or a laptop that can access you with a good internet connection, you'll be ready to go.
A site like the Smartblogger gives you valuable tips to learn Freelancing. Another site that gets you writing with practical and quality blog post writing tips is Enchanting Marketing. If you want to learn how to write awesome blog posts, I would have you check their newsletter.
Once you've learnt how to write quality content, you can get started with websites like Upwork and Fiverr. There you can land awesome clients that will pay you a relatively good income for your work. There are other sites to land clients that you can write for and earn money. The job boards websites like Problogger and BloggingPro are places pitch your little heart out there and land your first freelancing job.
5.Start a YouTube Channel & Monetize it.
Have you heard about Ryan Kaji? He's the richest youtuber ever known since 2020.
Ryan is a nine-year-old ( a kid of course) toy reviewer ranked as the wealthiest YouTuber of the year 2020 with an approximate earning of $29.5 within the estimated time. That's not a typo. It's real.
Now, leave alone the toy reviewer; let's get to well known YouTubers in Kenya.
There is this guy who's coming up very well on YouTube; Kabi Wajesus. At the time of writing this post, his YouTube channel had over 380K subscribers.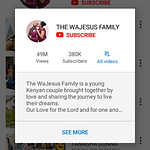 And on average, his videos gets approximately 200k – 100k views.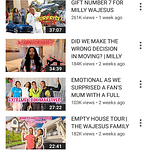 Actually, YouTube primarily pays you by displaying ads. Although, there are pretty many ways you can earn quite a higher income than just displaying ads. But before we get onto that, let's estimate how much the Wajesus Family YouTube channel makes from a single video through Ads.
On average, youtube pays about $15 – $1.5 per 1000 views. This will vary across all niches, seasons and holidays. Let's be harsh and assume that this guy makes an average of $5 per 1000 views.
From his 150000 views he gets from each video; he's able to make approximately $750. That's as cool as Kes 75000 per video. Sounds crazy, right? Of course. And that's as much as you can make by standing before a camera and doing your stuff. Not forgetting that that's by displaying ads alone.
Besides, there are other ways to make more and more money from YouTube, leave alone Google Adsense. Here are more ways to create a living as a YouTuber in Kenya.
Creating sponsored content.
The YouTube premium.
Become a brand affiliate.
Crowdfunding.
Sell your merchandise.
So are you ready to start a youtube channel and earn money online in Kenya? Then begin by creating good content. Buy a good camera 📸 (camcorder). Jumia has pretty much all of them at affordable prices. Actually, a good camera phone like the Redmi 9 T is fantastic to get you started. And it just costs you around Ksh 19000 on Jumia, depending on your specs available.
6.Sell Courses Online
No doubt that online courses are becoming popular and taking on traditional learning like a storm.
During the early phases of Covid-19 back in early March 2020, most countries went under lockdown. Schools activities got suspended, and most businesses were on hold. To pass the time and gain extra experience, most people took online courses. And during this period, the overall global interest for the keyword "Udemy" really spiked.
That meaning, online courses were in hot demand. And yet, the popularity of the keyword doesn't cease.
Udemy is an online course platform where most individuals sell and market their online courses.
Creating an online course is among the most profitable ways to make money online. Seriously though, Rob, a math's and programming teacher from England, made $1 million in his first year after starting and selling his programming course on Udemy. Very impressive, right?
You don't have to make a million-dollar, but hopefully, you can make $3000 per month selling online courses in Kenya. Then you can scale up as your business grows.
Now, the big question is, how do you create and sell online courses in Kenya?
Firstly, you need to realize your expertise. In short, what do you think you are very skilful at? For example, Rob ( the millionaire online course seller) realizes he could take his programming knowledge online. The same case to you.
But by this, I don't mean that you should overthink. Surely no. Even your life experience is an online course. Have you realized that most girls don't know how to cook? Ok, why don't you create an online system showing your audience how to cook different meals?
Secondly, you need to set a reasonable price for your online course. I'm damn sure you know your audience budgets very well. This is because you want to make your online course affordable. Then, you don't want to make it too cheap such that your audience will start doubting the quality of your course.
Thirdly, you will need to market your online course. I don't have to say much about this since this guide from Kajabi got you covered.
7.Make Money Online In Kenya With Bitcoins
In 2021, I know you must have heard a friend maybe on Facebook mentioned something concerning Bitcoin. So what is Bitcoin, and how do you make money trading Bitcoins in Kenya.
Bitcoin is an agreement network that empowers another instalment framework and advanced cash. It is the initially decentralized shared instalment network fueled by its users with no focal power or agents.
From a user point of view, Bitcoin is essentially similar to cash for the Internet. You can view Bitcoin as the most unmistakable triple passage accounting framework in presence.
Here are ways to make money online bitcoins.
Mining.
Buying and Holding.
Earn money by trading Bitcoins.
Lending Bitcoins.
Check this guide to learn deeply about Bitcoins and how to make money with bitcoins.
8. Become An Influencer
Quite often, when you've heard someone speak of becoming an influencer, you think of music celebrities. Influencers are not always musicians, news anchors or a YouTubers.
Well, though the named persons can be influencers, I think those are more than careers. Becoming an influencer might mean having an impressive number of real social media followers or YouTube subscribers.
What's pretty about influencer marketing is that you use the tools at your disposal. That is a good smartphone that can take good photos. Then you also need to be an active social media user, mainly Instagram, Twitter and Ticktok. Not like me, who spends days before login into my Instagram account.
So how do you make money as an influencer from Kenya?
Early this year ( 2021), you must have come across this vision alluring photos.
Catherine Jepkimboi, the girl behind this superb photo editing skills, went viral on Instagram.
She, later on, ended up landing a deal with the likes of Salit, a costal based company by becoming their brand ambassadors.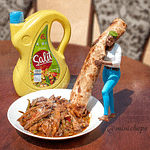 Source: Tuko.co.ke
Simply with a cheap Camera, she became a photographer.
9.Make Money For Free With Medium
You might doubt this when I tell you that you can make approximately $700 (Ksh 70000)a month from Medium.com absolutely for free. Heck, I mean it. That is with zero extra investments as long as you can access the Internet with your smartphone or a laptop. And also you are an excellent writer.
So let me show you how to make money with medium.com.
Medium is a publication website that allows creators to make money from their excellent work. Like any other publication, Medium lets readers subscribe to their partnership for as little as $5. Medium has a partnership program with writers and is free to join.
As a Medium writer, you get paid according to the time that the subscribed user spends reading your content. This means your need to learn how to write genuinely actionable content to keep your readers on your publication. Either way, there are tons of publications on Medium that have a reputation on the platform. They hire writers to write for them. Here's a list of those publications.
Medium pays after each month using Stripe. Unfortunately, Stripe isn't available in Kenya. But thanks to Payoneer. Currently, you can create a USA account with them and receive money into your local bank account.
10. Become an Online Forex Trader
Forex simply means foreign currency exchange. It involves buying and selling of currencies with the hope of making a profit when the traded currency value rises.
Usually, currencies in the market are traded in pairs, that is USD/Euro. And to access the market it's only through a Forex broker.
So this is how Forex works. Let's take that you have $100 in your trading account. Then you want to trade the Euro against the USD. Its conversion scale is 1.25, which implies that for 1 euro, you get 1.25 US dollars. The Forex exchanging rates are always changing.
At that point, you make an estimate – for instance, you predict that the Euro will rise versus the US Dollar.
Then, you buy the 80 euros for your $100 and sit tight for the exchange rate to hopefully rise.
If it rises from 1.25 to 1.35 – it is a beneficial circumstance for you, so you can close the exchange now. So, you can convert your 80 euros back to 108 dollars, and get your benefit of $8.
Other More Ways To Make Money Online In Kenya
Concluding
Provided you are wiling to work hard on each of method that you choose, its possible to quit your job and venture into online business and build your online hustle.
Let me now turn over to you. Which of these methods are your gonna try first. Are you going to start a blog? Or you going to create an online store for your business? Please drop your views right at the comment section below. Incase you need help to begin your online career, I will be there to help you get started.
If you liked this guide, you can join the BK Facebook group where I share my exclusive guides about making money online.