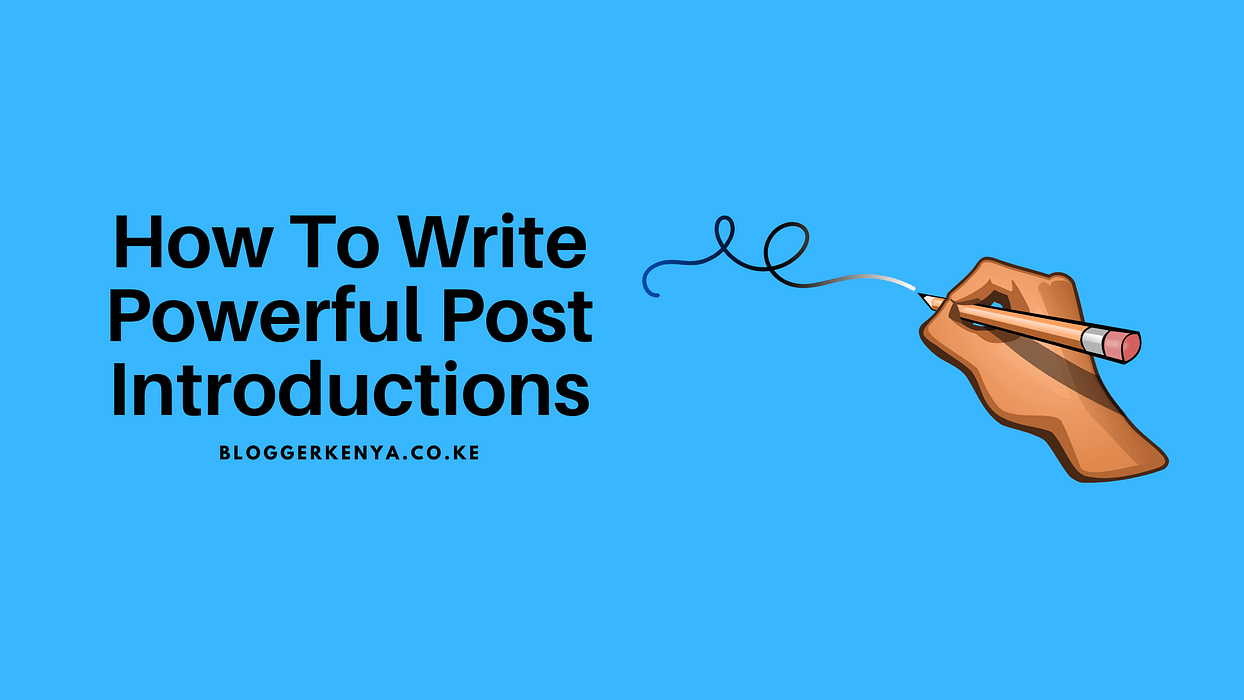 Are people spending hardly a minute reading your content? One reason could be, your introduction sucks. Yes, I really mean it. Your-intro-sucks.
There's an endless number of posts telling you to polish up on your post headline but fail to tell you that writing a great post introduction is equally essential.
The job of a post headline is to attract and entice readers to click on your content.
What makes them want to push further is your post introduction. It makes them eager to know what you've got for them.
So in this article, I'll be showing the 7 best strategies for writing great introductions that captivate your readers.
Let's delve in.
Why The Hell Should You Care About Creating Awesome Post Intros?
Writing a great introduction is pretty important. Logically, when you read the first paragraph of any written content, a couple of things hit you right away.
You get to question yourself, does this piece have what it states from their title? If you mainly landed from a search result, an introduction is a tool that validates your click to that site.
You want to know if the blog post or article has the information that you are searching for.
In short:
When you start with a mind-blowing stat, a vivid story, or an intriguing question, people will want to know what is in for them in the body of your content.
Now the question is, how do you create great blog post introductions. These seven strategies help you fix that.
1.Highly Polish On Your Opening Sentence
As I had mentioned earlier, the purpose of your headline is to attract people to your content. The moment you post that link on social media, your meta title is what captivates your readers to click on your blog content.
Right from there, the role is passed on to your post introduction. This means, if your headline were clickbait, people would know it right at the very beginning when they read your introduction.
Your opening sentence acts as a very critical element in your content. It should have a hook. It should make people want to continue to the next sentence, and the next and the next. Only realize they've read a huge portion of your content.
Well, is it possible? And if so, how do you craft a compelling opening sentence?
Here are three simple strategies.
One perfect way is implementing the power of a one-word opening sentence. For example, take a look at this introduction.
Imagine.You've just mobilized a list of emails of potential business clients. And what you want is pitching your online copywriting services.
Enticing, huh?
The other method to creating punchy opening sentences is by asking your reader a question.
Usually, questions are attention grabbers. They are hard to resist and make your reader feel as if you are directing that question to them. But only when the question is relevant and not way too generic to your reader.
Take a look at this opening paragraph's first sentence.
How long does your site take to fully? At the moment I bet you know that page speed is an official ranking factor by Google.
That way, this "stupid" but pretty relevant question plays a role in capturing your reader's attention and makes them want to read on.
The last method to crafting an amazing opening sentence is by employing cliffhangers. Like seriously? Hell yes!
Cliffhangers have their magic. They are what makes your readers turn pages and come back for more. It's the same device that makes you watch the next episode of your favorite TV show.
Here's an excellent example of how you can use cliffhangers to make your opening sentence crazily hot.
Are you part of the 99%?The percentage of businesses that are hardly using chatbots to engage with their audience.
The first sentence fits as a perfect cliffhanger. It asks you a question that makes you eager to continue to the following sentence.
NOW;
Using either of these three devices can help make the first sentence of your paragraph super compelling.
2. Hook Your Readers With A Compelling Stat
A stat means data. And data means numbers. Since our brains are hardwired to perceive numbers, a stat makes a suitable post introduction hook.
A stat establishes you as an authoritative figure in your niche. It signifies how well you understand your topic and is a symbol of research.
Now, let's see how you can use a stat to make your post introductions great.
Just have a look at this post introduction example:
Crazy as it sounds but do you know that in the US alone, the freelance industry is estimated to be worth over $1trillion. That simply means, Freelancing has got into the same category with major industries in the economy such as Construction and Tech. In Fact, it's predicted that by 2030, 80% of the global workforce could be represented by freelancers.
If, for example, you were to write a post on how to make money freelancing, such an introduction would perfectly do the trick.
3. Make Your Intros Short And Punchy
I'm a big fan of concise introductions.
Considering that most people hardly read online today, short intros help keep up their pace. They help your readers quickly know if your post is what they want.
See, if your introduction is long, most readers will get impatient.
They will then begin to skim over to the subtitles of your content and then leave.
Short intros are punchy. They help save time and stick the ever hurrying readers on your blog.
Just take a look at this intro by Backlinko.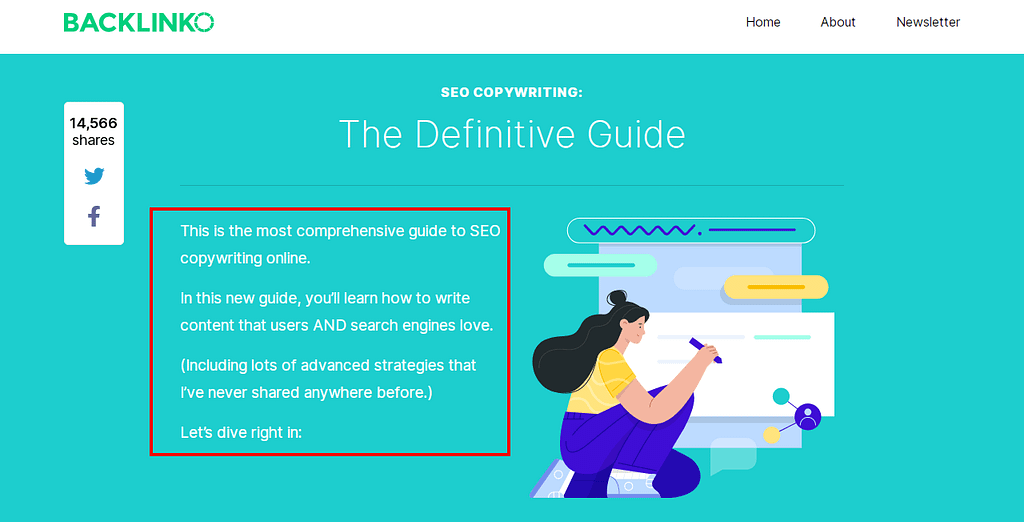 The Introduction is short and very direct. You don't have to read an article-sized introduction to know what the post is all about. As a result, make sure that your blog post introduction is short and pack a punch. Avoid beating around the bush.
4.Give Your Readers A Reason To Read Your Blog Post
You want to show your readers that you know what problem they are facing.
And ultimately, you have a solution for that problem. Also, you want to show them that the post is not just like any other post with overly exhausted tips.
Generally, readers landed on your site to learn something new. They want to get a solution to their problem. But just slapping words together and calling it an introduction isn't the best idea. You have to build trust right from your introduction.
One way is by showing that your tips work. And not just work but have experienced their success too.
One good example is this one from Backlinko.
As you can see, Brian does show you that the post is written out of his experience. What's more, the strategy he's about to share is the same step he used to boost his mail list.
Now, does it mean that you should have a success story to share to make your post introduction captivating? Definitely not. Instead, you should focus on showing your readers how your post is going to solve their problems. This way, state the problem and make your readers agree that it's true. Then state out that your post is going to solve their problem.
Take a look at this example:
"I bet you know that page speed is an official Google ranking factor. And to matters concerning the rate of conversion, speed is a killer.
It turns out you can improve the loading speed of your WordPress without touching a line of code. Whether you are a WordPress expert or a beginner, this is the most straightforward guide on how to speed up your WordPress site."
With such an introduction, you are ready to continue reading to the body of the post. And that's how you get your readers into your ropes.
5. Induce Emotions
As a great writer, you shouldn't make your content plan. In fact, emotions are what make readers connect with you and read your entire post. When you feel happy after reading a post, When you are afraid, that's also a feeling.
Well, it turns out you can employ the same strategy to write a great blog post introduction. You can sprinkle some feelings in your introduction and make it hard for people to resist reading your post.
What one cool example? Take a look at this introduction.
You've just written your first blog post. Brimming with excitement, you began to promote it. You share it on Facebook, use hashtags to reach more audience on Twitter, and post it on Linkedin.

The first day elapses but nobody engages with your post. The second, the third, and even on the fourth, but still, people don't give a damn about your blog post. You get frustrated, and you're ready to quit blogging.
As you can see from the introduction, a feeling is induced.
6. Grab Your Reader's Attention With an Interesting Story
Infusing a story is one magical way to make your post introductions captivating.
For one reason, stories are very easy to remember and relative. The moment you tell your readers a story, they are more likely to remember your blog.
They stop seeing you as that white color guy seated on his ergonomic chair giving industrial advice. Instead, they begin seeing each other as a friend who's sharing methodologies and tips to solve their problems.
Stories also indicate how free you are with your audience. Logically, you feel free to share a story with a person you have built a relationship with.
That's just that guy whom you speak nothing more than a "hi" every morning. In that case, stories are effective in connecting and bond with your readers.
I know you must be wondering, how can I incorporate stories in my blog post introduction to making them enjoyable?
I just love how authors like Henneke hooks their readers with a story right from the introduction.
And from her post, you are already in Harvey's shoes. You can relate the story to the exact problem you are facing. With that, you are seduced to read the blog post. As a result, try giving your readers a story.
Make it short, sweet, and relevant. It does need to be yours. It can be a "cooked" one yet relative. The primary goal is to hook your readers right off the bat. You are not hitting them with a full plate of fluff. Or what I term as beating around the bush.
7. Or Just Use This Simple Opening Formula
OK.
I know all the above tips can be overwhelming, especially when writer's block has really kicked your a**. But the good news is I have one simple formula that you can use to make your post intros vivid, punchy and awesome.
Trust me; it works across all industries. Be it that you are in the b2c or b2b. It works like a charm (kidding).
So this introductory formula is the PPT formula. I have touched about it in this post, but since you are here, let me dissect it.
PPT stands for, Problem, Preview, Transitioning.
So let's get into the nitty-gritty of the PPT and see how you can use it to make your introduction great.
Over to the first "P" on this formula. This way, begin by addressing your readers' problems. Just jump right to the main agenda. For example, say you have a post on how to boost email open rates.
You can kick start your intro this way:
Sending emails to your subscribers and only a few people open it can be frustrating. Without proper email copywriting skills and tools your email marketing efforts can end yielding no fruits.
From the first sentence, you already address your reader's problem. They know what your content is about.
Once you've addressed the problem, give your readers a short seducing preview of your content, like this one here.
In this guide, I will help you boost your email open rates for every email you send by 107%.
The Preview just doesn't tell what readers will expect but went beyond your reader's expectation by adding that "107 %". So as you write your preview, get creative with it. But be careful of how you do it.
Then close the introduction by connecting your readers to the body of your content, which takes us to our 'T' – transitioning.
Personally, I try to keep my transition insanely simple.
This is why I am a big fan of phrases like; let's dive in, let's get started. Let's fix this.
That way, you have your introduction perfectly worked on.
Concluding
Knowing your audience and the type of content that piques their interests will help you write a perfect introduction. Taking time to understand your audience can be of benefit.
As long as you know who you are writing for, it becomes easy to craft compelling introductions.
I hope this guide has taught you something. And at the moment you have a clue to writing intros that hook your readers.
NOW.
Let's have some fun, shall we? Ok, do this, craft an interesting opening sentence of any post you would love to write.
And then drop it right at the comment section. I respond to every comment.