How long does it take you to write a great headline?
To be frank, It takes me an average of 30 minutes to create a 55 – 70 words headline.
Sounds crazy, right? But it's not.
The reason why I take that long is that I know the impact a poorly written blog post title can have on my content marketing success.
Can you imagine an in-depth post with a disappointing headline? Would the content gain traction? Of course not.
This is why I wrote this guide to show you smart ways to use to create awesome headlines for your blog posts.
Ready to learn? Well, let's get started.
1.Convey An Effective Value Proposition
Users click through your headline and read your content because of one thing. Your headline promises them something good.
And that is an effective value proposition.
In general a value proposition is a statement that tells your reader why they should care about your product.
For our case here a good value proposition can be used to show how different your content is from your competitors. And how well your content is tailored to solve your readers' problems.
The question is, how do you create an effective value proposition for your blog post headline.
Firstly, you need to deeply understand your reader's pains. After knowing their problems you'll have an idea of the kind of content that they are exactly searching for.
Secondly, make your value proposition clear. Let your audience take not even a millisecond clearing the cobwebs. If they do they will not read your work. And that vague headline would have cost your content.
Thirdly, make it direct to the point. Avoid any chance of beating around the bush.
For example, take a look at these two headlines.
How To Grow An Email List Fast.
How To Collect An Email List Of Subscribers As Fast As Possible.
The second headline is fluffy. It takes barely a second to know what the first headline promises you. But for the second one, the author uses too many words to explain a single word.
Fourthly, your headline value proposition should be unique and solid. If you fail to give your readers a solid message from your headline don't expect them to click. Like I had said, you have to show them why and really why they should read your content.
Take a look at these two headlines.
How To Grow An Email List As A Beginner.
How To Grow An Email List Fast: From 0 to 20000 subscribers.
Both two headlines are awesome and eye-catching. The difference comes into their value proposition.
The first headline makes a quite obvious promise. But the second headline takes everything to a new level.
Not only does it tell your readers that they're going to learn how to grow an email list fast but  also they will learn how to grow their email list from zero to 20000 quickly.
These four things make the skeleton of a good value proposition for your post headlines.
Which now takes us to our next point.
2. See What has worked for others
My friend let's be sincere here.
You aren't the first person to wade through your blogging industry, right? This means there those who fiercely compete with you and there those who are quite much above you.
Spying on which headlines have worked for your competitors is a gold-worth idea.
Now, don't get me wrong. The aim is not to copy their headlines but learn what the audience pretty much well consider.
I'm going to show you two ways to get it done.
One is by using the Buzzsumo tool. This tool will help you analyze the headlines that went viral on social media. Which gives a clue of the particular headlines that your readers love.
Here's how to do it.
Say for example you have a blog post on "How to make money on Youtube".
Using the Buzzsumo tool, you'll have a list of content that went viral on social media for that topic. In which you'll take time to spot on what their headline is like.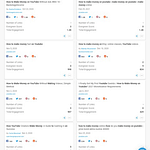 As you can see, all the headlines are just 'how to' articles. This means a headline like this;
How To Make Money On Youtube: Earn $4500 monthly.
Is likely to perform well than this one.
10 Ways To Use To Make Money On Youtube
By using Buzzsumo you would have known the anatomy of the headlines that are perfectly suited for your content.
The second method is by googling your headline.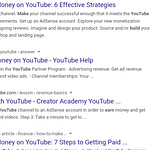 Then scroll through them to check what is in common among them. Again, the headlines are all based on the "how-to" type of content.
3.Use A Significant Number Or Uncloaked Data Value
Numbers!Numbers! Numbers!They are more than you may think.
Let's play a quick number game here. What's your favorite number?
Let me guess! It's number 7. Is it? Ta-dah!
Usually, numbers are brain content stimulants. I'm not saying a number written in words but a numerical value itself. And that's is why 7 will grab your attention than seven.
Furthermore,
You can admit that you still hold on to that perception that $99.99 is cheaper than $100.
Since values are more scannable, including it in your headline makes that headline looks attractive.
For example, take a look at these two titles.
Nine Ways To Make Money As A Beginner.
9 Ways To Make Money As A Beginner.
Which headline looks easily captures your attention? Did I hear you whisper the second title? Correct.
Reason? A numerical value. Yet nothing meaningful has been changed.
Now, I know you must be wondering, should you write a listicle post to have a number on your headline? No! No! No!
Your headline doesn't have to be a " 10 ways …." formula.
And that is where the data value comes in. Data presents facts (e.g 73%), time ( e.g 21days) or even monetary value (e.g $12.30).
Nonetheless, the way you use a number on your headline will vary with the type of your blog post.
For example, if you create a step-by-step guide and end up using more than 10 steps it triggers fatigue among your readers. E.g
15 Steps To Creating A Great Upwork Profile.
5 Steps To Creating A Great Upwork Profile.
Humans are typically searching for shortcuts. Thus, more of you are likely to click on the second headline. Simply because it looks like you will complete the work faster.
What if you are writing a listicle article. The bigger the number the better. For example. 104 Content Marketing Tools That Will Boost Your Sales.
That title doesn't make you feel like it's too long for you to read. It shows you that there more options and more opportunities to thrive.
So, while using a number on your headline, take your time figuring out how to psychologically use it to make your content marketing fruitful.
4. Use Power Words
There is an important ingredient to a tasty "headline dish".
They are worth being included in your recipe.
What are power words anyway? These are emotional phrases used by copywriters to prompt a feeling to a reader.
A good example, the word "awesome". What does it tell you? It tells you that the involved subject is lit. Impressive that is.
So when you come across a title like this "17 Awesome Tools To Boost Your Sales". You already have emotions induced in you. You can even figure out how those tools are "awesome".
Power words are used in response to the type of perception that they trigger.
Some cause curiosity, others greed, others fear, others cause excitement, others cause sadness e.t.c.
For example, the word Smart in this title
" 5 Smart Ways To Make More Money As Casual Worker" is greed stimulative. You want more money as a meagerly paid worker.
And at the same time, "smart" can be used to cause curiosity. Just like in this headline " 5 Books That Will Make You Smarter".
The curiosity which killed the cat will make click through to the article to know which of those books will make you smarter.
To know how to use power words to make your headlines powerful and attracting SmartBlogger did a great job by creating this guide.
5. Go For Cliffhangers
Usually, the purpose of the headline is to attract the reader and make her read the first sentence. A headline gives a reader the momentum. If you start with write a sad headline, the reader will feel that sadness all through.
But how do you nudge your readers to start reading your content from your headline? It's by using a cliffhanger.
What is a cliffhanger and how can you use it to make your blog headlines powerful?
Well, do you remember the soap opera that you never wanted to miss each day? What did it do to make you watch the next episode? Employing suspense right. That's how a cliffhanger works.
It's a plot writing device based on suspense.
While employing the cliffhangers on your headlines it makes your readers curious. They yearn for the information. It's like dangling the keys in front of the baby.
For example, look at these two headlines.
You Can't Google This Place.
This Man Wants To Beat Google.
This Is What A Good Website Should Look like.
2000 Email List That Converted To $20000.
These headlines are compelling in such a way you wouldn't resist clicking. They leave you somehow in suspense.
Now here comes the big problem. You might think is using a cliffhanger is click-baiting your readers? No. As you can see nothing is too hyperbolic or overpromising.
Usually, clickbait headlines lure you or make promises whose content doesn't cover.
For example let's say you've written this headline, " How I Turned $20 to $2000 In Two Days". Then you fail to give the real and reasonable process that you followed to make much money, that's a clickbait headline.
In short, if you write a shocking headline and then make your headline shocking too, that wouldn't be a clickbait headline. But if you fail, that's a clickbait headline.
Now a headline using a cliffhanger is always tailored to entice your readers to read your content by leaving them in a suspense.
6.Make Your Headline Unique
Great headlines are always unique. If you copy someone's headline and turn it into your own, you will be harming your content's credibility.
The goal is to make the headline catchier and not generic. So your post title should stand out.
Remember, people know how skillful you are right from the headline itself.
Well, it's good to emulate other people's headlines but it is stupid to copy their headlines.
As I had said right from point #1 that your headline must have a good value proposition, uniqueness of blog post title is one way that tells the reader "Mmmh! This content seems to have information that I've not read before. Let me check it out".
And by that, you would have tied in your ropes.
7. Write Headlines That Speak Not Lecture
Readers hate being generalized in the crowd. So do I.
As a marketer or an author who is writing web content, you must learn how to speak to your reader using your headline. Not readers but one reader.
It's a clever trick to flag them with the "You". Psychologically, when you address a single person they will stop and they will want to know what you've got for them.
It's pretty much like when you are walking in the street and you are searching for a place to buy let's say a pen. And then here's is the marketer who shouts to you," Hey, men I've got the pens here. Quality pens at an affordable price."
And then you will stop. Think and say " Ok, let me have a look".
And the street marketer would have attracted you to his business.
Here're typical examples of such headlines.
19 Places That You Wouldn't Want To Miss Visiting This Year.
10 SEO Blogs That Will Make You An SEO Expert.
15 Websites That Will Pay You $500 For One Article.
8. Make Your Headlines SEO Friendly
Do you find words and slap them together to make a headline? That's the dumbest thing you would ever think of.
This's because you will be chasing away Google from your content.
A headline isn't perfect if not optimized for search engines especially when you want to rank well on Google.
So how do you make sure that your headline is SEO-friendly?
Start by Understanding the keyword that you want to rank your blog post for and place it closer to the beginning of your content.
For example, say you want to write a post on Best Safari Destinations. So while writing your blog post headline you will write something like this.
10 Best Safari Destinations That You Wouldn't Want To Miss In 2021.
That way you have the Keyword at the very beginning such that it's visible by the searchers.
That is "Best Safari Destinations".
Another tip for writing SEO-optimized headlines is by keeping them short. A lengthy headline can impact your click-through rate on the search engine's results page.
This is because search engines like to google show about 55 – 65 words of your headline. If it exceeds that it's truncated which will make users feel like they are missing out on something from your headline.
Furthermore, you should make sure that your headline is nailed with a user intent mind. User's Intent refers to knowing what your readers are searching for. If they type a particular keyword or phrase the content that they expect at hand.
Usually, users' intent is currently a vital ranking factor on google's ranking algorithm.
If you optimize your headline and content for the wrong keyword, users will keep bouncing back. This will tell Google that your content shouldn't be on the first page of google.
What follows dropping your rankings as if they never knew you.
To optimize your headline for searchers' intent make sure you know what your readers when they search for a certain keyword.
For example, if a Google user searches for
What if writing such a headline yet your content speaks about "what is chip masala is, how to cook it step by step.
9. Use Tools To Create Awesome Headlines
Still having a problem creating a powerful headline.
You aren't the only one. The most skilled copywriters you've ever heard of or you currently respect for now have the same problem.
They have to create a dozen before they get a good headline that piques them.
Ask them and they will confess it.
Creating dozens of headlines can help out but as for now, headlines tools are cool to speed up the process.
They also help you analyze the persuasiveness and emotional value of your headlines.
The Hoth has a cool blog topic generator that suggests possible headlines for your blog posts.
What you need is just to fill out the form.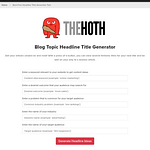 Then click on the "generate headline ideas" button. The tools will give you possible headline ideas that closely match it's your content.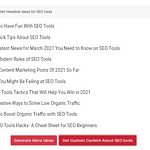 Another awesome tool is the Coschedule Headline Studio.
This tool helps you analyze your headline based on several factors. The emotional value, SEO friendliness among others.
Just hope into the tool any type in your headline. And you will get how headline scores.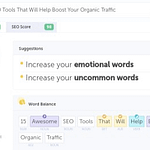 I try to achieve a good score ranging from 65 – 90. For the same cause don't struggle to get a perfect score of 100 for your headline.
The value of your headline will plummet.
If you want to check on other awesome tools that can help you create great headlines for your content I recommend your to take a look at this guide from OptinMonster.
Nevertheless, tools shouldn't be the ultimate solution to rely on to create good headlines. They are only there to help you improve on your headline value and general structure.
Concluding
I hope this article added something to your notebook.
Now let me get turn over to you and this time I'm not gonna ask you a question. I want us to have just a little. Yeah, a little moment with you.
Here's what to do, write 2 – 3 of your best headlines for your post that you want to publish for your current post.
Then drop them right in the comments section and I will go through them to suggest what you need to improve to make it epic.
Don't feel shy, we learn from mistakes. I'm here waiting for you.