So you finally decided to join the Global Internet Fortunes (What your friends dubb as GIF). You want financial freedom by working online and make money while at the comfort of your smartphone.
Yes, you have been jobless or had had a job that pays you meager figures and in the meantime you're searching for a side hustle which will perfectly supplement your income.
Or you're a campus student and you want to utilize your HELB Loan very well by creating a stream of income where you don't have to depend on your parents anymore.
Now after you seeing this screenshots on your friends WhatsApp status and on Facebook…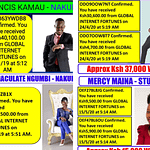 … you decide to take a risk. You are ready to join Global Internet Fortunes. You want to make money online like your friend.
But.
Before you join, are you sure GIF is worth your money? Is Global Internet Fortunes genuine? Does GIF Web hosting packages really exist?
That's what I am going to cover in this Global Internet Fortunes review.
So let's get started.
What Is Global Internet Fortunes (GIF)
According to them, Global Internet Fortunes is a web hosting company and an online marketing company. They offer domain registration services through the concept which they call network marketing.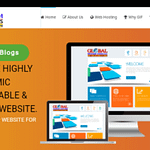 Furthermore, Global Internet Fortunes is an award winning company by KENIC as the top domain registering company since the year 2018.
Global Internet Fortunes was founded by Kimathi Kamudeh back in the year 2013 as a Social Biz Connect and Rebranded to what is called Global Internet Fortunes (Gif.ke).
Kimathi Kamudeh was a sales manager at Old Mutual Insurance company before thinking of starting GIF to "eradicate" unemployment in Kenya which of course was a brilliant Idea.
So How Does Global Internet Fortunes Work?
To understand how any company's products work, I usually take the risk of trying their products.
It's not a different case here for GIF. So I went to facebook and interacted with one of their agents. We took the conversation on Whatsapp and when I asked him what products do Global Internet Fortunes offer, this was his answer;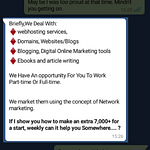 That was so promising but it didn't make much sense to me. This is because his statement pretty much revolved around two things; Web hosting and Network Marketing.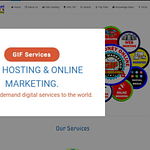 If you think the guy was actually making up his own words to convince me, you are wrong. It's the same thing that's on the Global Internet Fortunes website..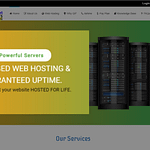 Well to find whether all these services are real and if Global Internet Fortunes works, I had to test their plans.
Actually GIF does not have a money back guarantee policy which made me wonder if their hosting packages and all the services they claim to offer are genuine. But just because of you, and I wanted to write a very honest review, I risked my money.
I created an account with GIF and deposited $70 into my GIF wallet.
And I even registered my domain. I then waited for my domain and web hosting account to be set up. I waited for the cpanel credentials to be sent so that I could create my website but until today they have never been sent!
So I took the initiative to contact the guy who referred me to GIF about my cpanel credentials but he told me to go for a training in Nairobi to learn how their platform works.
Sincerely speaking, I'm a website designer so telling me that I needed training to understand their platform and create a website didn't make sense to me. After a 2 hrs call he admitted to it that GIF web hosting services, article writing and e-books never existed! What! Are you f***king kidding me!
And that's how Global Internet Fortunes conned me with the perception of web hosting services and blogs.
Besides their platform involves nothing but the obvious pyramid scheme. That is, referring friends into their network to make money online.
So here is how you make money from Global Internet Fortunes.
Usually, you have to join them by someone inviting you. Which means you can't just visit their website and purchase their services. There must be someone who's going to refer you.
Once recruited to their platform, you have to pay an activation fee of $39. In which it will include " a domain" and the GIF membership account. In short you will be paying to access that dashboard and for having your own domain which you will never use in any case.
After paying the upgrade fee and being approved as an active member, you have to refer friends to join GIF.
Telling them all the sweet things about making money online and inviting them for GIF training. I'm pretty sure you have met them somewhere on Facebook, yeah? You know what I mean. In addition, they have to pay the upgrade fee also for you to earn a commission.
So here is how GIF compensation plans work.
You earn $10 for every direct referral.
$3 from level two and level three.
$2 from level four upto level seven.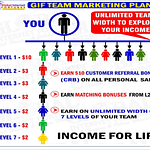 And then you earn a bonus of $1 when all your downlines upgrade their account after each month. Which means you have to pay a renewal monthly fee of Ksh 1000.
Also Global Internet Fortunes has a platform where they sell airtime from the Telcos like Safaricom, Telkom and Airtel.
From this you earn a commission of 2% of the airtime you buy. That's pretty much like Ksh 20 commission everytime you buy Ksh 1000 airtime which to me doesn't make any sense anyway.
Is Global Internet Fortunes A Scam?
So I want us to be genuine here. I know many of you will hate me for this and maybe for the rest of your life indeed. But from my opinion, Global Internet Fortunes is a scam. Yes! G-I-F -is-a-scam!
Hey! Hey! Hey! Chill! Easy!
Before you dare say a word, let me explain why Global Internet Fortunes is a scam.
I used GIF for three months and trust me I am damn sure of this.
Although they may have physical offices around Kenya, that doesn't make them a legit company.
I agree they offer domain registration services, airtime services, are a registered company and the rest but what about their web hosting services which they claim to offer, mmmh?
Basically, they don't exist. Which means, the "Global Internet Fortunes blogs" that  you are promised, the website templates which they say to be offering and the "managed web hosting" service that they talk about on their website, simply don't exist.
If you want to believe me, just ask your invitor to show you his/her website/blog. And be keen enough. It shouldn't be a wordpress.com website which is created with a .wordpress.com extension like these two si one here.
That's because, wordpress.com is a free hosting platform.
There's a big difference between WordPress.com and WordPress (WordPress.org). To know more about each take a look at this article.
Most probably, your invitor will avoid your question by telling you that monetizing a website will take time and it would be wiser if you concentrate on referrals first. Did they?
This is good evidence that the web hosting services, website templates, automation softwares and blogs they claim to offer don't exist. And not at all.
Another thing that makes me refer to Global Internet Fortunes as a scam is their pricing.
Before then, their "web hosting services" cost Ksh 5500 with monthly renewals of Ksh 1500.
After some time they realized the exploitation they posed on unsuspecting Kenyans with their ingenuine web hosting services. They finally decided to lower their plans to Ksh 3900 and with a monthly renewal of Ksh 1000.
Let's do a simple sum here.
In your first year of their web hosting services (which don't exist) you'll spent this;
3900 + ( 1000 × 12) = Ksh 15900.
Now let's compare them with Bluehost.
Bluehost is an international web hosting service provider.
The most basic plan from Bluehost costs $3.95 (Ksh 395) per month.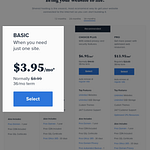 But you have to pay for one year. However, if you choose to pay for 3 years in total your plans get cheaper. For example if you pay for hosting for three years this would be the total cost for web hosting in 3 years using Bluehost.
This is equivalent to Ksh 142000 for three years. No monthly renewals like GIF.
You can now imagine how much you pay to host a virtual website with Global Internet Fortunes in relation to the world's best web hosting provider which is Bluehost.
Furthermore, Bluehost has an Affiliate program that pays you to make money with them for recommending their products to potential buyers. They pay you $70 for each referral.
The program is free. You don't need to buy their hosting to promote their services. In fact, I promote Bluehost web hosting services yet I don't use their services.
To sum up this point if Global Internet Fortunes is genuine, you can now see why I call them scammers.
They lure you with web hosting services, domain registration, blogging and article writing yet their main purpose is to recruit you to their program just like any other pyramid schemes out there
The Global Internet Fortunes Training: What Does It Entails?
Nothing special with their GIF training. It all involves brainwashing you. Lying you with the concept of making you rich quickly, which will never happen.
On your first time in their training, they will tell you what a broke person would want to hear. Showing you a list of testimonials for top earners and car achievers to entice you. You will join and let me assure you, you'll hardly earn enough at last.
If a company is a pyramid scheme, the owner and the pioneers of the company are the ones that benefit. People who are at the bottom barely make enough.
Can You Really Make Money With Global Internet Fortunes?
Yes but only through referrals. No shortcuts no other way as mentioned by those GIF marketers just to make you fall into their trap.
So if you are ready to join GIF get ready to roll up your sleeves, get your hands greasy to build your network.
Should You Join Global Internet Fortunes?
The choice is solely yours. If you chose to begin and start referring to your family, friends and inboxing anyone on Facebook to get prospects who will join their platform, good luck.. That's your decision and nobody will stop you from doing it.
I just played my part to show you how Global Internet Fortunes is scamming unsuspecting Kenyans by selling you things that do not exist.
If you are searching for a place to host a website or a blog,Global Internet Fortunes isn't worth your money. Simply because their services don't exist.
Bluehost could be a superb choice for you. They give you a free domain for one year and hosting for as low as $2.75 per month which you can get exclusively from my discount link here.
I personally use Hostpinnacle to host this blog.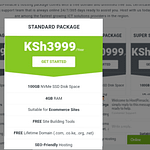 And I am happy because it's worth every dime. For once, you get your domain and hosting services at Ksh 3999 annually. That is without any monthly renewals.
Learn more on how to create a blog in Kenya and make money online, have a look at this easy and step by step guide that I have written here.
Concluding
I hope you enjoyed this article. My joy is seeing you make the right decision in starting and growing your business online.
Now let me get back to you. Have you ever used GIFs before? What was your experience with GIF? Are you still using their platform?
Please drop your views right in the comments section.