Today I'm going to introduce you to an amazing online platform known as Cash Chat APP. In fact, with this app alone I have managed to make thousands of Kenya shillings as a side hustle.
Want to get started with Cash Chat? Use my exclusive link to join and enter sponsor's ID as 200403628. For more help, find me on whatsapp (0796590760).
Want proof? Here's a screenshot of my recent earnings using this APP.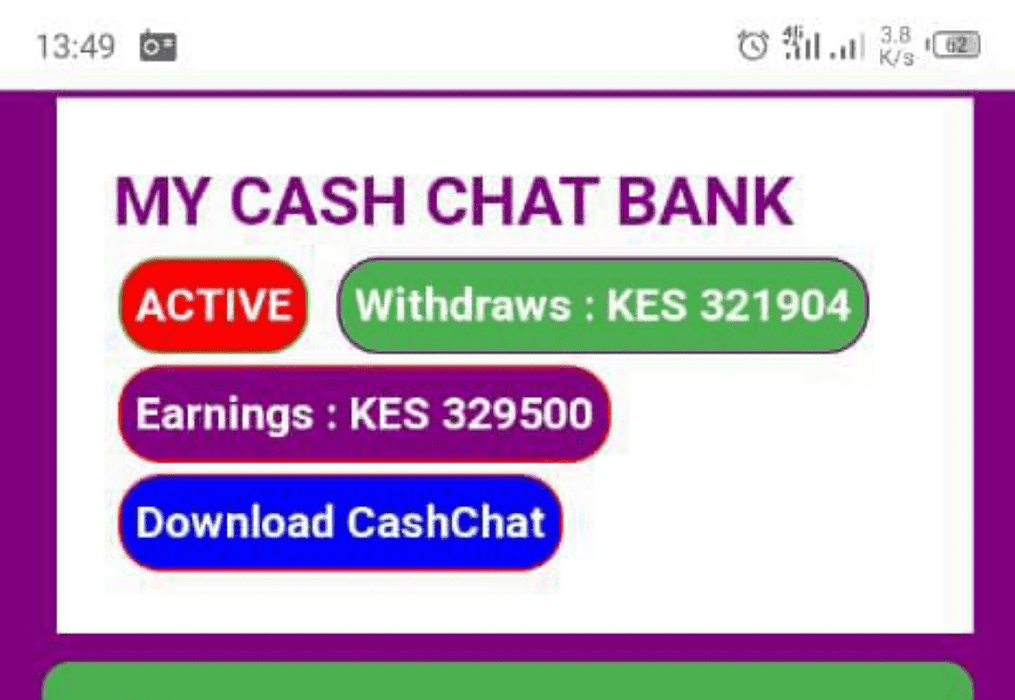 But you know what, it didn't happen overnight. I didn't wake up one day and found that I had made money while I was asleep or being called for a TV interview on online business opportunities in Kenya.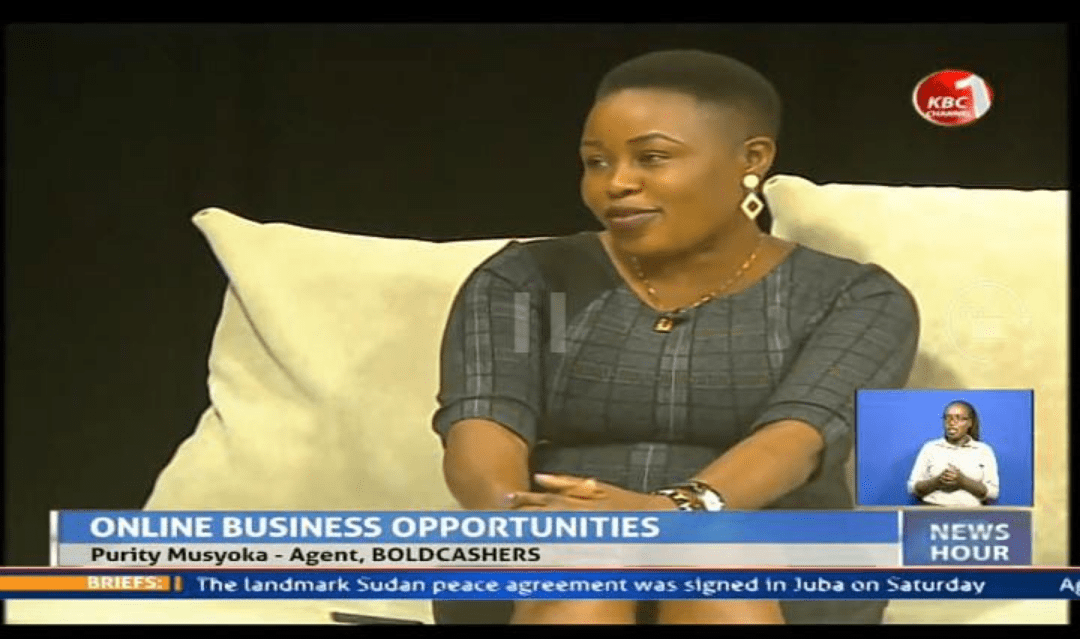 I faced many challenges when I started out. For one reason, most advice about Cash Chat APP given out there is irrelevant, and let me just term it as harmful.
However, the good news is, you can turn this APP into a gold mine and build your side hustle as well.
How?
In this article, I'll show you everything you need to know about Cash Chat Pesamoni APP.
READY. Well, let's jump right into it.
Want quick guidance? Don't shy off, send me a message on WhatsApp (0796590760) and I will be more than willing to help you.
What Is Cash Chat?
Cash Chat is an app that was developed by Bold Cashers to connect the world as well as extend their financial services. Bold Cashers is a financial technology company owned by a Ugandan-based company called Pesamoni.
This app has pretty much similar features to Whatsapp. The difference gets to be, apart from connecting with your friends with Cash Chat App you can make money online.
Simply put, here's what you can do with a Cash Chat App.
Send text messages – just like WhatsApp, with Cash Chat you can chat with your friends online
Share voice messages, images, and videos and put a status update.
Pay utility bills at a discounted price.
Transfer funds – using Cash Chat you can transfer money to your Mpesa, MTN, Airtel Money recipients at a low transaction fee. In addition, you can send money to your friends who also have the app. It's commonly known as the wallet-to-wallet transfer.
Buy airtime – using Cash Chat APP you can recharge your mobile airtime.
Cash Chat Review: Is this APP Legit?
With the rapidity of so many platforms claiming to offer money-making opportunities, it can be hard to know which one is legit. Obviously, you do not want to land in the hands of scammers.
I know you must be wondering, is Cash Chat legit? Let's find out.
Myself, I use three major criteria to know whether a company is legit.
Firstly, is the company a registered company?
Cash Chat, it's a registered company under the Bold Cashers and Pesamoni LTD Both In Kenya and Uganda. Here are the legal documents certifying the registration of Pesamoni Limited.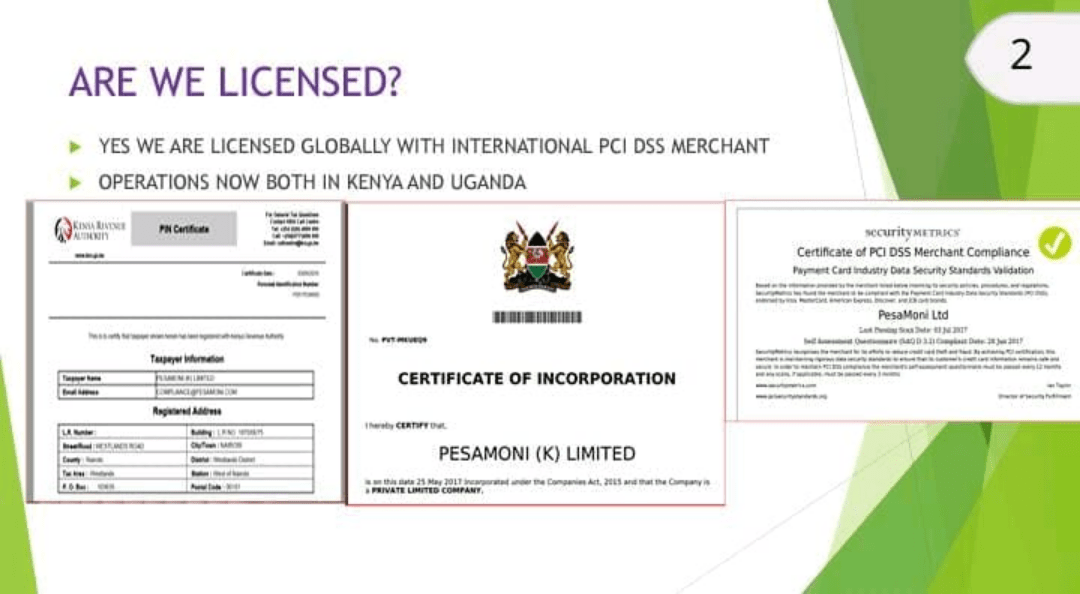 Over to my second criteria to check if a company is legit. Do they have physical offices? This is important because if a business has an office, it's much easier to find them.
So that, in case you have an issue finding them, it wouldn't be like searching for a needle in a haystack: you can visit their offices and get help.
Cash Chat does have offices. Both in Kenya and In Uganda. Cash Chat Kenya offices are located at view park towers, 6th floor along the Utalii Lane in Nairobi.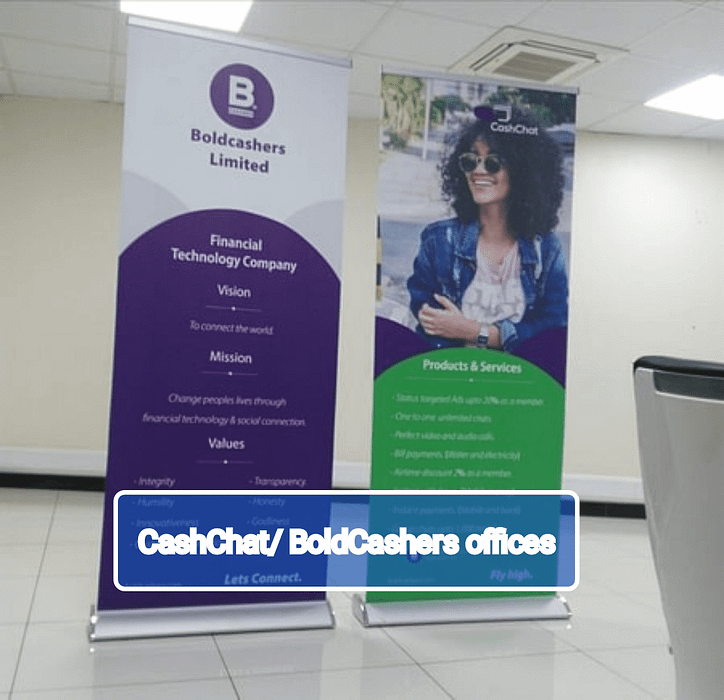 Lastly, this is among the most important criteria to determine if a company is legit. What do existing customers/ users say about the company? People's reviews are pretty important.
Currently, I haven't come across a person complaining about Cash Chat services. And to confess about it, I have never had a problem with a Cash Chat App.
Especially during funds withdrawals. Their withdrawals are instant. This means you can withdraw your earnings at any time of the day to your bank, Mpesa, Airtel Money, and MTN.
How Does Cash Chat APP Works?
So, in this section, I'm going to show you everything on how Cash Chat works. That is, how to build your online hustle using Cash Chat App.
You might be the next person who would be on a TV interview. Who knows?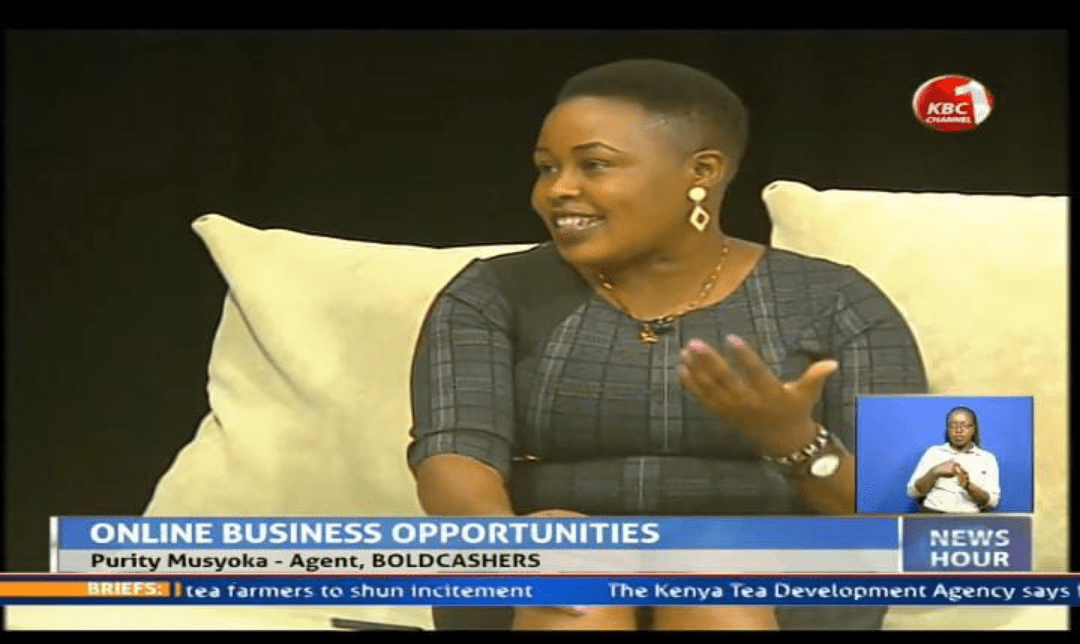 As I had mentioned earlier, Cash Chat APP is a diverse social media app and is integrated with a money transfer system. You can chat with your friends; make a money transfer to your Mpesa, Airtel Money, and MTN friends.
What's more surprising, you can even earn through ads that are placed on your Cash Chat APP when you place a status update. I am going to elaborate on this dipper in the next step.
To start using the Cash Chat app and make money online, you have to create an account with them. Then pay a one-time subscription fee of Ksh 1550.
Please note, once you pay the fee. That's all. You are given a forever active account. Which means you won't incur any renewals.
So, the question is how do you earn using Cash Chat APP?
Now, this takes us to our next step.
How to Make Money Using Cash Chat APP

This gets to be the most interesting part about this App. Using Cash Chat, you can generate a living using the five best methods.
This is how.
1. Earn as an affiliate Marketer
Affiliate marketing refers to recommending a product from your favorite company to your friends, or in other words to the targeted group of people.
Put it this way.
You bought an electric kettle heater from a particular store. Then you ended up loving the product so much. Such as when one of your friends told you that they needed to buy an electric kettle heater, you have no doubt referring them to the shop where you bought yours.
In the same case, affiliate marketing follows the same channel. Although, you are rewarded a small amount of money (commission) by the business owner for bringing them more customers.
Cash Chat has an affiliate program where you can refer friends to start using the app and earn a commission.
This is how the Cash Chat referral program works.
Once you create an account with Cash Chat you are given a special tracking link you can use to refer your friends. Once your friends create an account with CashChat, you earn Ksh 1000 for every referral you bring to join Cash Chat.
2. Make money as a Cash Chat Agent
Cash chat has an amazing program where you can make money as an agent. This way you apply for their agent program and what you do is convince them to advertise with Cash Chat APP.
In this program, you earn a commission of 20% of the total amount the client pays to advertise with Cash Chat.
For example, say your client pays $ 500 as the advertising fee. Then you would have made:
20/100 $500 = $100. Converting it to your respective local currency, that's a good amount of money.
3. The Spinning wheel
As an active member of Cash Chat, you are eligible for a free spin. Usually, the spin wheel appears in your account as a popup widget on particular days of the week. Mostly twice a week. With the Cash Chat spinning wheel, you can make around Ksh 10 – 450. Of course, it will depend on how lucky you are on that day.
4. Earn through Cash Chat status views
This APP pays you for the views you get for your status. As I had mentioned earlier, Cash Chat APP is very similar to Whatsapp. Just like you put a status on your WhatsApp so can you with Cash Chat APP.
Over to the "my status" section you can put an update, be it a picture, a meme, or even a video.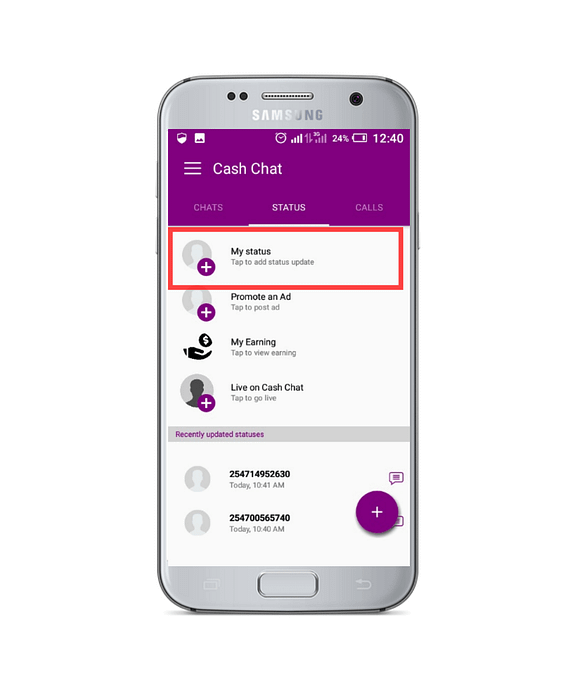 Usually, the Bold Cashers team automatically places an ad. Such that, before a viewer can see your status, what loads first is an advert.
Cash Chat uses two major methods to evaluate the ad.
One is through the ( Cost Per Mile) CPM. And the normal Cost Per Click (CPC).
Well, what does CPM mean? Simply put you earn as per how many views that your ad gets.
On Cash Chat it ranges from Ksh 0.5 – 10 per every view that your status gets. This means if you can manage to get 100 views a day, which I'm pretty sure that it's possible for most people you would have pocketed Ksh 1000.
Sounds great, right?
On the other hand, there is CPC. To learn more about how this module works I highly recommend watching this video.
5. Save money and earn interest
This way you earn an interest of 10% interest after every financial year, depending on the amount that you save on the Cash Chat saving program.
How to Join Cash Chat APP and Make Money Online
Do you have a smartphone or a laptop? Can you access the internet? Great, follow these steps to join Cash Chat APP and begin making money right away.
Step #1: Create an Account
Use my exclusive link to join Cash Chat. Or else, you can use the button below to get started.
Since I love you so much, you'll get a Ksh 200 reward. You contact me via WhatsApp to claim your bonus.
Enter your details in the form revealed. That is your name, phone number, email address e.t.c.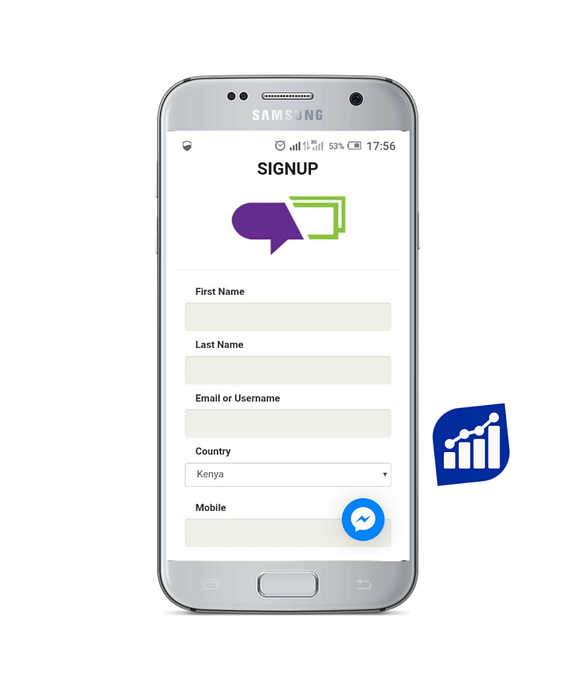 Once done click on the "signup button".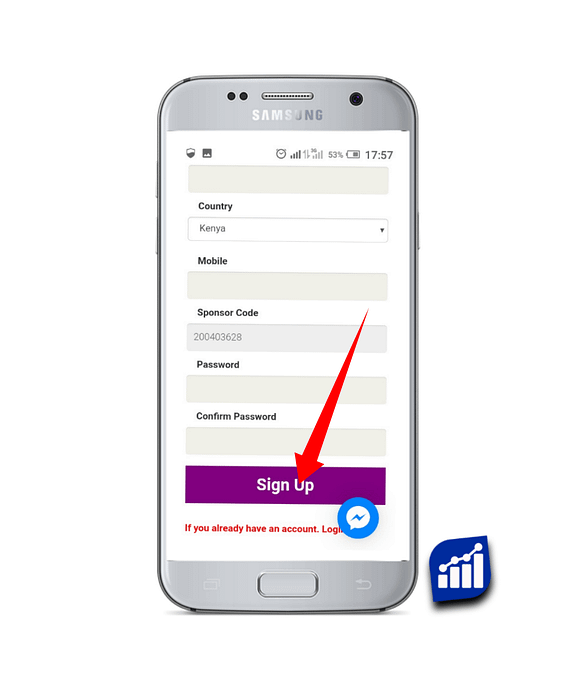 Step #2: Activate Your Account
To begin making money online using Cash Chat APP, you need to activate your account. This involves paying a one-time subscription fee of Ksh of 1550. This acts as your online business capital.
So how do you activate your Cash Chat account?
Go to your Mpesa menu => Lipa na Mpesa => then Paybill.
Enter Business Number as 4040043.
Account Number as BC.
Proceed by keying in your Mpesa pin and complete the transaction.
After that, copy the Mpesa transaction reference code you got when you paid the activation fee.
Login to your Cash Chat account using the password and username you used to create your account.
Paste the code and click on "Activate" as shown below.
Image
In case you are facing a problem, you can reach me on WhatsApp via 0796590760 as you claim your Ksh 200 bonus.
Step #3: Download the Cash Chat APP
Head over to the Google Play store and install the APP.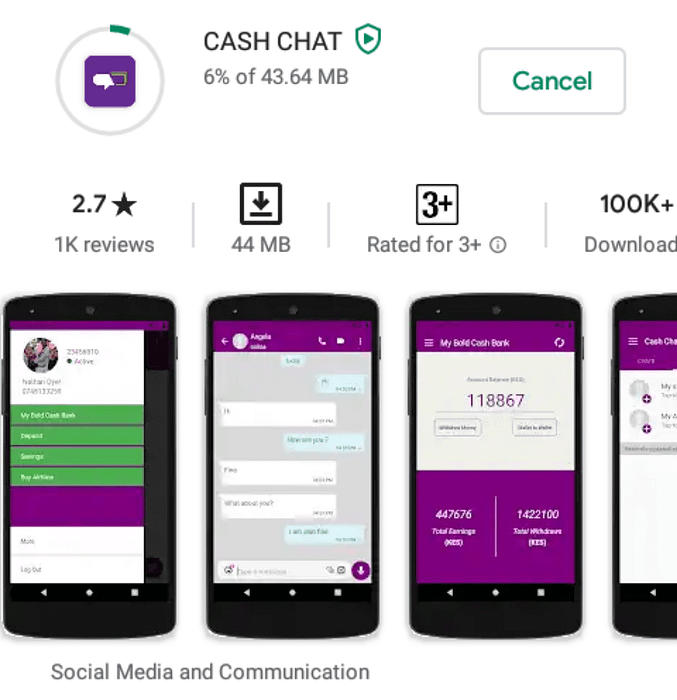 Login to the App. This by entering the e-mail and the phone never that you used to register with an account with Cash Chat.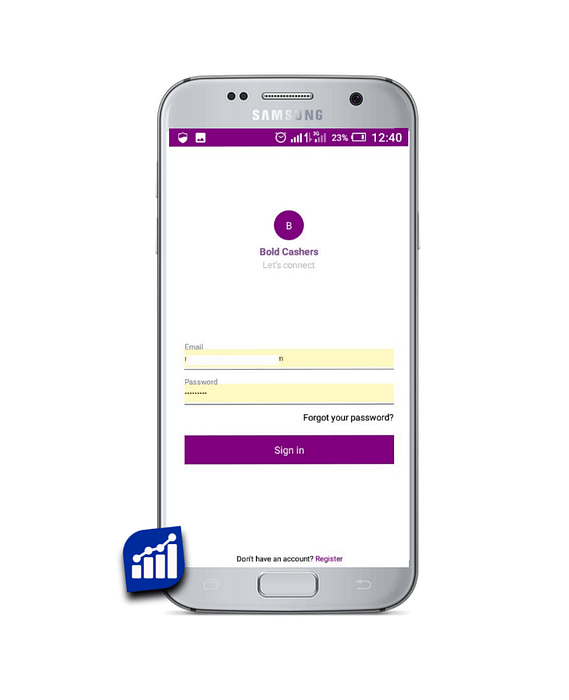 Then click on the menu icon to connect your account with Cash Chat APP and sign into your account.
Once signed in, you can click on the status and put something on your update. To go about that process and more on how it works, I suggest you watch this video and this one also.
Concluding
With Ksh 1550 only you can change your life. Just imagine how many times you've used that equal amount of money to do something that ended up in waste.
Ok, take it into this perception. How long can you have Ksh 1550 in your pocket? Barely a week, right?
Now, what if you decide to invest that same amount. Maybe you would make more money than I do. So common and think like an entrepreneur today.
Would you love my mentorship on how to make money using Cash Chat APP, the steps that I follow to get more income from Cash Chat? Great, waste, not even a second. Find me on WhatsApp (0796590760) or just leave a comment below and I will add you to my list.