In today's guide, I am going to help understand what bounce rate, pogo sticking and dwell time are.
Chances are you have heard these terms slip from the tongue of most SEO experts. Others use them interchangeably. But the fact is, there is a very big difference between these three SEO metrics.
Well, not only will I help you differentiate them but also help you know how each of the named metrics can impact your organic page rankings.
What's more, I also will help you improve each metric to boost your page rankings.
So, let's jump right into it.
What is Bounce Rate?
Bounce rate refers to the percentage of users who land on your website but literally do nothing to interact with your site.
The action that they could have taken to engage with your site would be, clicking through to other web pages, signing up for your newsletter, buying a product, or even filling a form.
Consider the bounce rate in this scenario.
You go on Google and search for "How to practice yoga". The first result seems to delight you and so you click on it. You thoroughly read the piece but fail to interact with the web page other than scrolling.
Once you are done reading you hit on the back button and exit the website. Since you did not take any action to engage with the page that is counted as a bounce rate.
What Causes a High Bounce Rate?
A high bounce rate is kind of a complex metric. The reason being, a high bounce rate can indicate a poor page experience and can be controversial as well.
If your site experiences a high bounce rate it means two things. Either, the majority of your users were not satisfied with your page and hence bounced back to the search result page. Or most of your visitors found what they wanted from your website and therefore they returned to the SERP.
However, here are the most common causes for a very high bounce rate.
Slowly loading web pages – if your website takes forever to load people are going to leave your website before it finishes loading.
Poor page experience – if users get interrupted often as they read or if they have to pinch and zoom the text on your website they are more likely to exit.
An ugly web design – an unprofessional page design is likely to drive away your visitors. It soars your visitors' doubt towards the legitimacy of your website.
Poor website navigation – if users can not easily find a related page or just any other page that they might click on, their journey ends there. And so they will have no choice other than leaving your site,
Thin content – when your content is hard to understand or generally does not add any value to your visitors, your readers will surely dash on the back arrow.
Wrong audience – when you promote your content to those who are not much interested they just skim at a million speed and finally leave your site.
Maybe people don't trust you – when people hardly trust your business they are not likely to convert.
Poor web copy – if your copywriter didn't do a great job of crafting amazing web copy, people won't take any action.
Is Bounce Rate an SEO Ranking Factor?
According to Google, bounce rate is not a page ranking factor.
According to Moz, a high bounce rate can indirectly impact your organic rankings. In this way, bounce rate can be used to validate a click. Simply put, did the website deserve that click or is it just a click-bait?
Another research by Semrush shows that bounce rate is among the topmost Google ranking factors.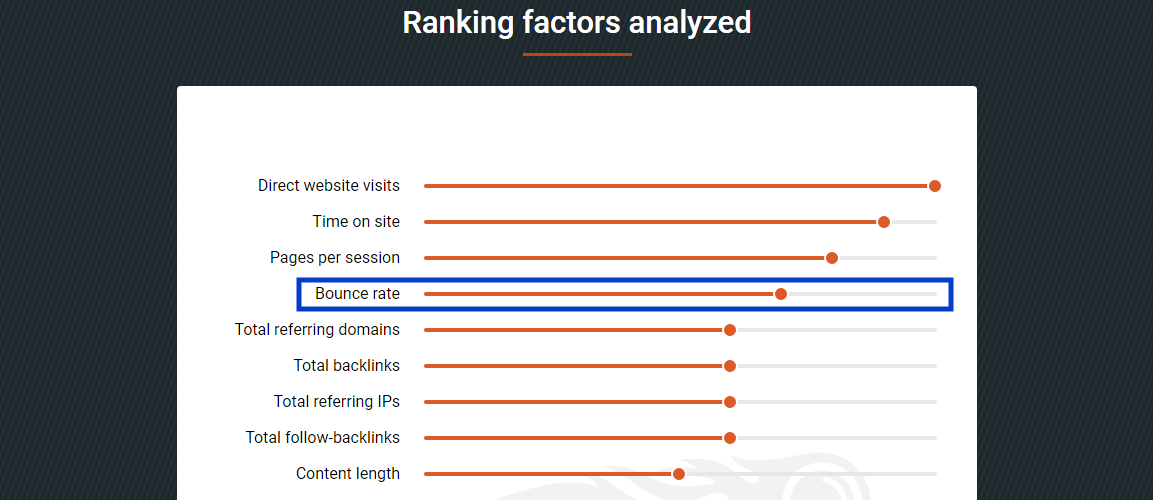 Now, who's right. Could Google be trying to hide that bounce rate is a ranking factor? Or is both Moz and Semrush wrong? The answer is, they are both correct.
This is why.
It depends. For example, say you have a landing page on the "backlink checker tool," which ranks on the first page of google. From this perspective, you expect most of the users to interact with your page.
This means if they click on your page, read through it, and just leave, that is likely to drop your rankings. This is because it simply means that your page does not have what your readers need. That way, a high bounce rate is likely to impact your page rankings.
On the other hand, if your web page is a blog post, most probably, a high bounce rate is not likely to affect your page rankings. That's because a high bounce rate can mean that most readers found what they needed, so they left your website.
However, that shouldn't mean you are on the safe side. In fact, one study shows that there is a correlation between bounce rate and first-page Google rankings.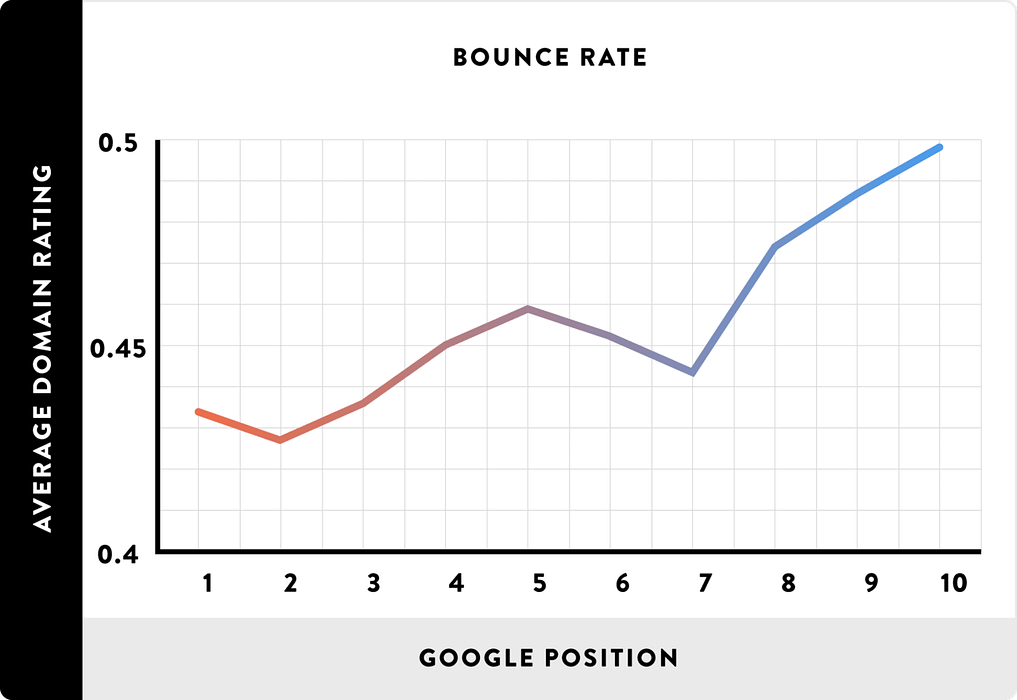 If most of your readers end up pogo-sticking on SERP after exiting your website, that will likely affect your page rankings.
What is Pogo Sticking?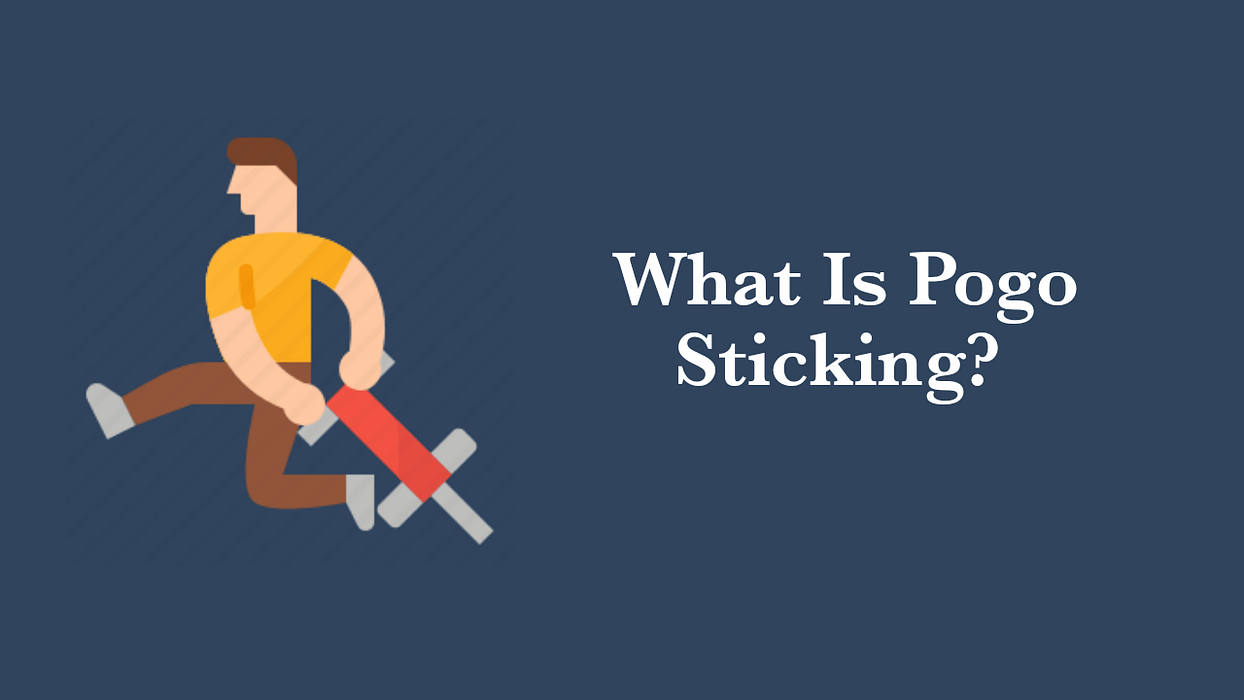 Pogo sticking is a particular type of bounce rate. Most people confuse bounce rate with pogo sticking.
Pogo sticking happens when a user consistently clicks to another page on the search results page after bouncing back from the previous page to find a result that fulfills their intent.
Here is a simple explanation of what is pogo-sticking.
You go and google for "Youtube marketing."
The first result seems delightful, and you click on it. Only to realize that the page content is not what you were searching for. Therefore, you bounce back to the search results page and click on the second result.
So this movement from one result to the other in the search for what will match your search intent defines pogo sticking.
How Pogo Sticking Affects Your Page Rankings
If users pogo stick around the SERP once they exit your page, it simply means that they did not get what they wanted. In short, their query did match with what they were searching for. This is why they are going back to the results page to check if the next result has what they are wanted.
Google has continually denied the use of pogo sticking as a ranking factor in their algorithm. However, Google is keen to provide its users with a better page experience. This is why page speed and mobile-first indexing are among Google's prior ranking factors.
Although pogo sticking is not an SEO ranking factor, it can affect your organic rankings indirectly. If most users continually pogo stick after clicking on your page, Google will assume that your page does not have what its users want.
One evidence that shows that google values pogo sticking to measure user's experience is the People Also Search For box (PASF). When you return to the results page after clicking on particular results, google immediately reveals a PASF box.

They know that you most probably had a bad experience with the page that you visited. And the PASF boxes are another way of telling you, " We know how it feels not finding what you wanted. Could this be what you were searching for?"
How to Reduce Pogo Sticking
Pogo sticking is a result of a bad experience that users had with the previous page. So if you focus on providing a good page experience then for sure users are going bounce less and pogo stick minimally.
So here's how to go about it.
Produce very insightful content – focus on providing everything under one page. Some of your readers could pogo stick because they missed something from your page.
Interlink to relevant pages – help readers find other information related to your content instead of bouncing back to click on the PASF box.
Increase Page load speed – if your site takes forever to load, users are going to bounce back and click to your ranking competitor.
Write for search intent – write content that readers are actually up to.
Work on your site design – make your site easy to navigate, user-friendly, and even beautiful.
Avoid click baits – if your headline is interesting, make your content as well. Don't frustrate your readers by luring them to click on your content only to hit them with something quite obvious or oyster-boring.
Make your content easy to read – increase the font size, use simple language, use short sentences and break down huge paragraphs into shorter ones.
What is dwell time?
Dwell time refers to the duration of a user from the moment they clicked on your page link from search results until when they return to the SERP.
This means, if you click on a page from SERP, spend a good duration of 4 minutes reading the content, then that's what dwell time is.
Most people tend to confuse dwell time with time on page. However, there is a huge difference between the two.
On the flip side, Time On Page refers to the amount of time a user spends on a page before moving to the next page. Usually, time on page only counts when a user clicks on another page.
For example, if you click to say page A, spend 3 minutes reading the content, and then move to page B, then the time on page A would be 3 minutes. However, if you just spent three minutes on mobile-first page A and ultimately left the site, the time on page A would be zero.
Why is Dwell Time Important?
If people hardly spend time reading your content, then it would mean that content is thin. The more time that readers spend reading and engaging with your content is a perfect indicator of the relevancy of your content.
For blogging sites, dwell time is a gem. That's because the longer a visitor spends on your blog before returning to the search results page posts means that your content is what your readers want.
And Google will say, "Let's give this page a boost, it seems more users love the page."
How Do You Measure Dwell Time
You now know how detrimental a low dwell time can have on your page rankings. The question is, how do you measure dwell time?
The bad news is that dwell time is not a metric you can find on your google analytics reports. But here's the truth, you can calculate dwell time.
A straightforward way is using the "Average Session Duration" from Google analytics. This metric is similar to dwell time since it refers to the average time spent by the user on one of your pages.
This is how to find the average session duration from your google analytics.
Head over to your google analytics account and click on "site content," ⇒ "behavior," ⇒ "landing pages."
Create a new segment such that you are viewing organic traffic only. And ta-dah! You can view the average time spent on each of your pages over on the "average session duration" metric.
How Do You Increase Dwell Time
If you want people to spend more time, you need to find an effective way to stick your readers around. It's time that you should give up on clickbait headlines or just focus on driving traffic to your site. So in this section, I will be showing actionable ways to increase dwell time on your site.
Hook your readers right off the bat – make sure that your post introductions are captivating. Write short paragraphs that are super-specific and interesting as well.
Improve your content readability – write using easy-to-understand language, break long sentences into short ones and long paragraphs into small chunks.
Write long and engaging content – the longer the content, the more time users will spend on your site. However, though, make sure that your piece is purposely long, not a piece of garbage. Otherwise, users are not going to read your fluffy content.
Embed Youtube videos – according to Wistia research, a page that contained an embed video boosted their dwell time 2.6 times more than that without. That said, videos can potentially increase your dwell time.
Include images, screenshots, infographics, and presentations – it's no accident that a picture speaks a thousand words. Visuals help make your content easy to digest. Users can relate to what you are talking about when you include a visual rather than just a text block.
Eliminate intrusive elements on your site – get rid of popups that load immediately when a user lands on your site. Instead, I recommend that you employ the exit-intent popups or set your popups to load after a user scrolls down 60% of your page. If you are running ads on your site, use them wisely not to distract your readers.
Write what users are searching for – understand how to write for search intent. Otherwise, if your content does not fulfill what readers want, they will hit on the back arrow.
Make sure that your site is easy to use – if users have trouble using your site, they will spend less time. As a result, make sure that your content font size is large. Eliminate irrelevant floating widgets on your site and make sure that your website is very friendly on mobile devices.
Concluding
Bounce rate, pogo-sticking, and dwell time are essential metrics to understand how valuable your content is to your users.
These SEO metrics also help measure the success of your content marketing efforts. For example, if your landing page has a high bounce rate, it simply means that people are not converting. And if readers pogo stick after exiting your site, then it means that your page has inadequate information or else your copy is misleading.
By that, you can know what is working and what is not working. You have to work hard to maximize your odds of ranking on the first page of Google to generate more income.