There you are.
With your budget of Ksh 20000. And you are wondering which quality smartphone you can buy with that budget.
Landing here wasn't by mistake. Feel calm, make yourself comfortable.
Because today, I'm going to show you the 5 best smartphones to buy in Kenya with a budget of Ksh 20000.
So let's dive in.
1.Xiaomi Redmi 9T
If you are searching for a powerful smartphone to buy in Kenya on a tight budget, then try Xiaomi Redmi 9 T.
Launched lately in January 2021 Xiaomi Redmi 9 T is a great smartphone with quality features you wouldn't expect from a smartphone of its price.
The photos from Redmi 9T are quality, especially with the pop selfie camera. The device has an amazing connectivity of 4G+ / 5G.
This smartphone comes packed with the following features.
Storage: ranging from 4GB RAM and 64GB or 6GB RAM and 128GB.
The rear camera consists of quad-camera: 48 MP (wide) + 8MP (ultrawide) + 2 MP (macro) +2MP (depth) sensor lenses.
The front camera has an 8 MP (wide) sensor.
A long-life battery of 6000mAh.
Side Mounted Fingerprint.
A pop-up selfie camera.
The phone has a dimension of 162.3 x 77.3 x 9.6 mm
The device is powered by the Qualcomm SM6115 Snapdragon 662 Octa-core processor while the GPU is Adreno 610.
Redmi 9T uses the android 10.0 + MIUI 12 operating system.
Weight :198grams
The bad news is that the smartphone is not waterproof. And the good news is that it has a water resistance coating thus preventing chances of minimal damages caused by water.
That being said Redmi 9 T is a good smartphone, you can get on a tight budget with the most advanced features not found on most smartphones of their range.
Prices range from 17000Ksh – 18000 Ksh depending on the specs of the phone.
2.Infinix Note 8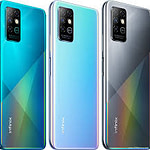 Infinix has always been a dear mid-range brand to most Kenyans. Seriously though, it's one of my few favorite smartphones that I recommend all the time.
This awesome gadget was released in December 2020. So it's still a hot brand in the market.
Unlike another phone out there infinix is a perfect camera smartphone you could buy without breaking the bank. It's also a good phone with RAM and internal storage of 6GB and 128GB respectively.
Which makes all the other brands of its range hide their heads under their hoods in shame.
This gadget has its fingerprint sensor placed right on the power button if at the chance you wondered.
What about the battery? Infinix has a reputation for creating a long-lasting battery.
The Infinix Note 8 isn't different. It has a massive 52000mAh non-removable battery sitting under its case with an 18 W supercharge 3.0. Very impressive right.
The Note 8 comes in a variety of colors. That is Blue, Green, and Grey.
To cut the stories short here are the Infinix Note 8 specifications.
RAM:6 GB.
Internal storage: 128 GB.
Battery:5200 mAh.
Display:6.95 inches HD+ Dual Infinity-O display.
Main Camera: 64 MP + + 2 MP + 2 MP + 2 MP.
Connectivity: 3G, 4G, WIFI
Operating System: Android 10, XOS 7.1
Processor: Helio G80
The price of Infinix Note 8 in Kenya goes from Ksh 21000 for the 6GB RAM and 128GB variety.
3.Techno Camon 16s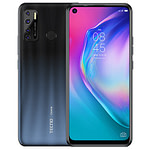 Techno is another popular brand in Kenya with their Camon series always hitting the Phone market in Kenya like a storm.
Techno Camon 16s isn't different from the rest. It's a beautiful smartphone that comes up with unique colors not common with their competitors.
The 6.6 inches display device doesn't make you strain while watching your videos or movies in bed.
It's camera wows me too and besides, the storage is as high as 128 GB with RAM of 4 GB. No need to uninstall the apps you love just because your storage is so limiting.
If you are looking for an affordable smartphone with a blast of features packed in it then hey, hear from me. Techno Camon 16s is a device worth your Penny.
In brief here are the Techno Camon 16s specifications.
RAM: 4 GB
Internal Storage: 128 GB
Battery : 5,000 mAh
Main camera : 48 MP + 2 MP + 2 MP + AI lens
Front camera: 8 MP
Display: 6.6 inches
Processor: MediaTek Helio P22
Connectivity: Dual sim, 3G, 4G, Wi-Fi
Colors: Ice Jadeite/Misty Grey/Blue Hawaii
OS: Android 10
On average you can grab your Techno Camon 16s at a good price of Ksh 17500.
4. Huawei Y7P

This phone is different.
Not the pretty much about the model nor the usual physical difference. But a rare difference for smartphones powered by the android.
Oh seriously. Does Huawei Y7P use android?
Absolutely yes. Still, the company hasn't migrated their O.S from android to Harmony O.S yet. So Huawei still has an android.
The difference is here. It doesn't have the G-APPS with the likes of Google Playstore or Gmail APP. In Huawei Y7P the Playstore has been completely replaced by something they call the Huawei App Gallery.
The Huawei App Gallery is pretty much functional as the Playstore. Since every APP you would think of in Playstore you will find it on the Huawei App Gallery.
Besides, Huawei Y7p is a perfect mid-range phone that gives several amazing features without reaching for an extra shilling from your wallet.
And is what Huawei Y7p got for you under the hood 😀.
RAM: 4 GB
Internal Storage: 64 GB
Battery: 4000 mAh
Main camera: 48 MP + 8 MP +2 MP
Front camera: 8 MP
Display: 6.39 inch
Processor: Kirin 710F
Connectivity: Dual SIM, 2G, 3G, 4G, Wi-Fi
Colors: Aurora Blue, Midnight Black
OS: Android 9.0
Huawei Y7p price in Kenya goes for Ksh
5.Motorola Moto G10

Motorola is a big brand in the android community.
Forget about the huge weird cell phones with long antennae which were there about two decades away. No this ain't the same Motorola.
Currently, this company is now officially part of a Chinese company called Lenovo. And if you've used the Lenovo products be it a ThinkPad or a smartphone they have outstanding gadgets at a competitive price.
The Motorola Moto G10 isn't just a smartphone. But a phone that lets you turn gallery into a mini-studio with quality photos.
The device has dimensions of 165.2 x 75.7 x 9.2 mm in case you should wonder.
Before I forget if are hunting for a phone with android 11, try Motorola Moto G10.
Here are the Motorola Moto G10 specifications.
RAM: 4GB
Internal storage: 128 GB / 64 GB.
Battery: 5000mAh.
Main Camera: 48 MP + 8 MP + 2 MP + 2 MP.
Front Camera: 8MP.
Display: 6.5 inches
Processor: Octa-core (4×1.8 GHz Kryo 240 & 4×1.6 GHz Kryo 240).
O.S: Android 11.
Color: Aurora Grey, Iridescent Pearl.
Motorola Moto G10 prices in Kenya average on Ksh 18000. You can order from Jumia.
Concluding
Our joy is offering reliable information right on a silver platter. And I hope the review helped you find the smartphone of your choice in Kenya.
Now I would like to hear from you. What is your current brand that you are using? Is it better than what we have reviewed? All that's your favorite brand that makes you be like "if I had the money I would buy this".
What's it is, feel free to speak your mind right in the comments section. We publish them whether bad or good no matter what.
However, if you loved the article please join the BK Facebook Community or our email newsletter and be the first person to get notified when we publish a new blog post.